More poll madness (sorry, K!)
My Democratic friends are excited by Kerry's narrow electoral majority on electoral-vote.com.
Kerry: 291 Bush: 247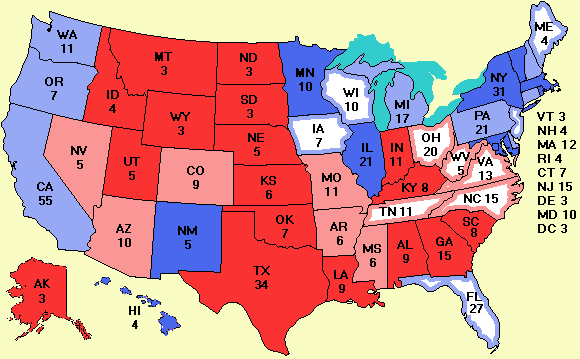 Actually, this map looks very similar to a prediction I had made long ago, with the exception of Florida. I've said it before and I'll say it again, Ohio is more at risk for the Republicans than Florida this year.
The Democrats shouldn't get too carried away, however. Take away Kerry's razor-thin majority in Florida, and Bush wins narrowly.
But it's even worse than that. This map reflects new battleground state results from John Zogby, whose numbers have consistently favored Kerry throughout the campaign. Normally when a fresh batch of Zogby data is added, this map looks like a smurf bled all over it. Today, however, it looks much the same as it did yesterday. Why? Because the most recent polling cycle has given Bush his best Zogby showing yet.
I also have high regard for Fox News polling. No, really! Stop laughing. Fox has actually been nearly as tough on Bush as Zogby has, yet today they're showing Bush with a five-point lead nationwide, as well as in the all-important Ohio.
It ain't over yet, and either candidate could still win this one. Anybody who tells you otherwise is dreaming. But if you force me to bet, my money's still on Bush, as it has been all along.