Happy Deathday, Howard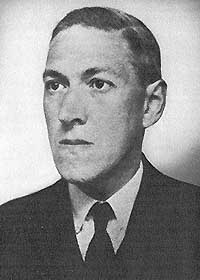 H. P. Lovecraft seems the kind of person who might celebrate his "deathday," and as a reader points out, today is Lovecraft's 68th. It's always gratifying to see one's childhood heroes finally receive the respect they deserve, even if it's years after their deaths (Gram Parsons is another such deity in my pantheon.)
I remember years ago reading an interview with Lovecraft published in the old Twilight Zone magazine, posthumously of course. I was amazed and amused at how warm and funny the guy was, not to mention self-deprecating. Some anthology or another of his work had just been published prior to the interview, and Lovecraft opined that anyone who shelled out good money for it was "a sucker."
Well I was a sucker. At the time I thought I was the only one, but now I realize there were tons more of us than I ever imagined. We still miss you down here, H. P. Rest in... whatever. I hope you have a bright shiny mansion in Unknown Kaddath.
"Ph'nglui mglw'nafh Lovecraft R'lyeh wgah'nagl fhtagn"