Hillary will protect us from titties
Hillary is now so undeniably running for president that I think some people owe me an apology for all those years of calling me a paranoid conspiracy-monger. Hill has chalked up a fairly moderate record in the Senate over the past four years, but has recently moved even more aggressively toward the center. The latest example is her standing with the Senate God Squad (Santorum, Lieberman and Brownback) to whine about how children might be exposed to violence or boobies unless the government comes charging to the rescue.
As a general rule, I prefer Republicans to Democrats. Still, Democrats did always retain certain advantages for me. For one thing, with a few notable exceptions (*cough*Tipper*cough*), you could usually count on them to refrain from this kind of nonsense.
Not anymore, apparently. Bummer.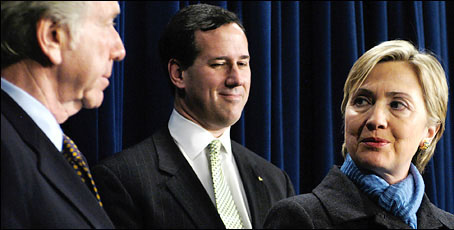 By the way, in the picture above, is it my imagination or is Rick Santorum scopin' Hill out like he wants a piece of that? Maybe the libs are right. Maybe he is sexually repressed after all.