Is Dolly Parton Satanic?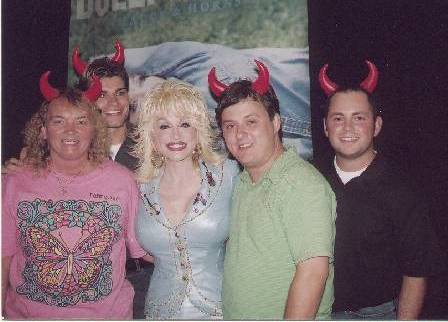 I was probably about fourteen when I first heard the "Satanic" backwards messages on "Stairway to Heaven." I thought it was pretty cool and spooky, but it was also a pain in the ass, because you had to manually spin the turntable backwards, and it was almost impossible to keep it at the right speed.
Well computers make all that stuff easy! So the first time I heard Dolly Parton's cover of "Stairway to Heaven" (don't laugh!) I naturally wondered whether her version would sound spooky played backwards as well (one could perhaps argue that Dolly's version is sufficiently frightening when played forward, but whatever.)
So anyway, you be the judge. Below are the actual lyrics from the song, followed by the lyrics as they have traditionally been interpreted when played backwards. Click on either set of lyrics to hear the audio.


If there's a bustle in your hedgerow
Don't be alarmed now
It's just a spring clean for the May Queen

Yes there are two paths you can go by
but in the long run
There's still time to change the road you're on

And now the backwards version:

Oh here's to my sweet Satan
The one whose little path would make me sad, whose power is Satan
He'll give those with him 666
There was a little toolshed where he made us suffer, sad Satan....

We make stuff up, you decide.
(By the way, what's this business about a "bustle in your hedgerow," anyway? Is that a normal British expression? My British readers? Anyone?)
For more on this subject (I've been sounding like NPR lately), visit Jeff Millner's backmasking site, which I learned about from Son of Nixon.)