The secret of a great politician
Everyone knows the secret to being a successful politician is ti... ti-MING... TI-ming... timing.
Okay, it's an old Steve Martin joke that was never that funny to begin with, and falls even flatter in written form. But still, he's got a point, and you gotta feel a bit sorry for this guy.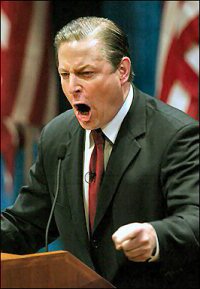 The last time I remember Al Gore making a serious policy statement on global warming, it was up here in New York, and it was about a kajillion degrees below zero, if I remember correctly -- metric. I remember my teeth were chattering on my way to work that day and my family jewels were hiding so far up near my tonsils that I wondered if I'd ever see them again.
Now his latest statement on the topic, in which he opines that global warming is a greater threat than terrorism, appears right on the heels of a horrifying suicide bombing that claimed 57 lives... in Jordan -- a target that isn't easily explicable by the conventional wisdom of either left or right. The death toll would have surely been much higher but for the fact that one of the suicide bombers failed to detonate properly.
That's astonishing, isn't it? Now pause for just a moment to reflect on how close Al Gore came to being our president on 9/11. Honestly, when Bush was running against Gore in 2000, I really didn't give a shit who won at the time. It's a good thing I didn't know then what I know now. If I had, I probably would have required Xanax to survive 32 days of the recount fiasco.