Merry Christmas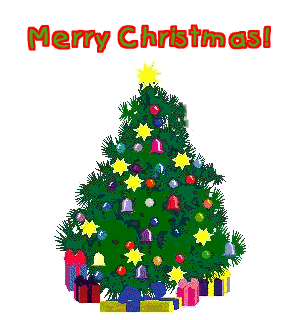 Well, here it is folks, whether we're ready for it or not. The whole Johnson family will be loading up the suburban assault vehicle as early as we can stand it tomorrow, and we're tooling on down to North Carolina. Don't expect much blogging for another week or so.
And in the meantime, Merry Christmas to one and all. And Happy Hannukah to all my Jew-riffic friends.
Christmas has always been a special time for me, and I'd love to put together a cool Christmas essay, kind of like the Wall Street Journal runs every year. But guess what? This year I have neither the time nor the talent. Christmas sneaked up on my busy life more suddenly than ever this year, so I'm going to offer you something else in return.
During these past few years, one Christmas tradition I've learned to look forward to is the annual Christmas remembrances of my friend Mal. He has a knack for story-telling of which I was always envious, and he can still remember what it feels like to be a little kid on Christmas morning. Even better, he makes you remember what it feels like too.
Here are Mal's musings for this year.


So many memories come alive this time of year. Most are happy, some sad (I knew four people who died on Christmas Eve, including my brother-in-law).

I prefer to think about the happy ones for this thread.

During the days leading up to Christmas, we always had fun things to get us in the mood. Oftimes, it was an Advent calendar sent faithfully to us by 'Uncle' Fred Heider from California, a man I never met. Given that there were three kids, my sisters and I rotated opening the windows. Other vehicles included an Advent candle which had the days of Advent stenciled on and was to be burned down only to the point of the next day. We keep it on our dining room table (yes, in those days, most families ate every day in the dining room). Another was a carousel with bronze cupids which would rotate, striking little chimes when the candles were lit underneath them. The little suckers got hot as hell as my small, inquisitive hands found out on more than one occasion.

Our Christmas tree was always a state occasion from the purchasing to the decorating. My Dad, still the actor even after radio soaps had come and gone, would take me along to watch him haggle with the tree salesman. "How much?" he would howl (to my eternal embarrassment) upon hearing the asking price. Understand that back then, you could get a great tree for $7-8. It was a rite of passage with him and the tree guy which they both seemed to love.

Our tree had a lot of old ornaments dating back to WWII. We each had one with our name on them (Monica's was blue; Megan's and mine were shocking pink). My Dad was meticulous in creating the tree, especially with the icicles which had to be put on one by one with 2/3 showing and 1/3 behind the branch.

I was relegated to cleaning the ornaments, a job I detested.

Stockings consisted of Dad's old Argyle socks which held a surprising amount.

As I was the youngest, I went to bed first and (naturally) awoke first. As the rules were that nobody was to be awakened before they chose to, I had to entertain myself upstairs. Oh yeah, going downstairs was forbidden until we all were assembled. So I would go into our small library room and read "Our American Past" by Roger Butterfield, a coffee table-type tome with illustrations and photos along with some text. It was due to this annual event that I learned the names of all the presidents through Eisenhower by the time I was about 8 or 9.

It is also why I went on to get a minor in American History at Northeastern. Strange how things work, huh?

My Dad, again ever the actor, would force us to wait while he would plop himself in the bathroom. As the only other male, I was scooted in to try to speed him along. He would never hurry, choosing to sit there on 'the throne' and enjoy a cigarette. That memory (and the combined smell, to be indelicate) is why I will never smoke my pipe in the bathroom and despise it when my wife does!

Finally, the big moment came and we roared down the stairs, turning left into the living room to the stockings with the traditional apples, oranges, mixed nuts and candy plus the small 'stocking presents' (a practice I continue today over Ellen's annual objections). Our son Steve has picked up on my side and does it as well so there, Ellen!

I remember in 1954 being fascinated by a little car which would dart up to the edge of a surface and then, miraculously to my eyes, turn around and shoot off the other way!

Mom and Dad had a good sense of humor and always made sure that their stockings contained coal, potatoes and onions much to our delight as revenge for all the disciplinary situations we had earned during the year. They would play it up as if they were surprised.

And every year we bought into it.

Now one would think that the Collins family segued immediately to the dining room and started in on the presents under the tree.

And...one would be wrong!

Mom was a stickler for forcing us to have breakfast first (usually Eggs Benedict) before a single present was unwrapped. Now this was cruel and unusual torture to be within 4 feet of a load of presents crying out to me: "Malcolm! Open me!"

Presents were opened by groups: those from Aunt Ruth and Uncle Dick (aka the R.G. Hubbell's), Aunt Gneinnie ((Gneisse pronounced like Jeannie) and Uncle Bob (the R.G. Hubbell's), Aunt Babbie and Uncle Shirl, Grandma and Grandpa Collins, and finally Grandma Hubbell. Then our own.

Phew!

Was there ever a young boy who enjoyed getting clothes as a present? If so, it wasn't this kid. Mom would see the grimace and would chime in "Now Malcolm, you really do need such and such!"

<<grumble, grumble!>>

Remember the Jean Shepard classic "A Christmas Story" where Ralphie almost does put his eye out with his Red Ryder bb gun? Well, in 1958, I nearly did the same thing with a toy which was a flying saucer launcher situated on a truck. I was so fascinated by it that I loomed overhead as I ratcheted the plastic 'saucer (a small disk with openings) in its holder. It launched all right, smacking me in the face near my left eye at damned good speed! What a jerk!

My mother's old college roommate from Wellesley, Janet Hill, completed the day by arriving from NYC every Christmas afternoon. Janet was a wonderful woman, incredibly bright, with a decided Boston Brahmin accent and a marvelous laugh.

The day was complete!

Merry Christmas, my dear friends!

You know, I did almost exactly the same thing with
my
first BB rifle when I was 8 years old. I took it out Christmas morning and almost immediately shot at an old oak tree at almost point blank range. The BB ricocheted and hit me on my right cheek, less than an inch below my eye.
At the time, I thought that was one of those things that happened just to me. Now, via "A Christmas Story" and my friend Mal, I've come to believe that it's something of a rite of passage.
Anyway, stay safe this Christmas, my friends. I don't want anyone putting their eyes out while I'm gone.
Merry Christmas, all.