Bush the grouch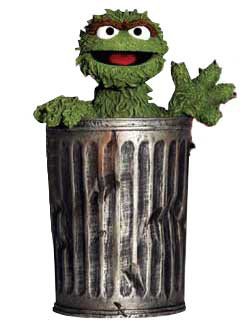 Here' another fine moment in the history of soaring political oratory.


"Oscar the Grouch has been friendlier to the Sesame Street characters than President Bush, who has chosen to make huge cuts to children's television programming," said Rep. Ed Markey, D-Mass.

Yep, it's time once again to re-fight the political battle over PBS funding. Some fights never get old, huh?
The article I linked above says that Bush's proposed budget could strip more than $150 million in federal funding from the CPB over the next two years. It's hard to gain an overall sense of perspective, though, because the article never tells us what the current level of federal funding is.
Well however much it is, it's that many dollars too many. Yeah, I guess that means I live in a garbage can too, along with our big ol' meany grouch president.
I'll admit that in a $2.7 trillion budget, public broadcasting funds amount to a piss in the ocean, but in a way, that's sort of the point. If we're going to balk at trimming some nickel-and-dime yuppie subsidy like public broadcasting, what hope do we possibly have of taming the really unruly political beasts in the budget?
Look, it's not 1970 anymore. When I was born, there were basically three television channels... if you were lucky. If you lived in a rural area, you probably couldn't even get them. Nowadays, with the advent of cable TV and satellite radio, there are more channels than one can realistically keeps track of, including many which offer the same type of high-brow fare which supporters have always used to justify PBS in the past.
With 10 jillion TV channels already out there, do we really want to spend hard-earned federal tax monies in the face of rising deficits just to make it a jillion and one?
And although this is not going to be very politically correct, I'm going to say it anyway. Who watches PBS? Who sits through those interminable and excruciating commercials on "non-commercial" TV in order to watch Peter Paul & Mary's 97th reunion concert, or "The Three Tenors?" Seriously? Is it



Single-parent, underprivileged minority households in the Bronx, or

Dirt-poor West Virginia coal miners for whom Velveeta is the base of the food pyramid, or

Upper West Side urban professionals who happily pay six dollars for a soy vanilla latté?

Here's a hint: it's number 3. The CPB is an upper middle class entitlement, a regressive wealth transfer to the most affluent members of society. Sorry, but it's true.
And that whole "Oscar" business is a red herring anyway, since the enormous commercial success of the "Sesame Street" franchise makes it inconceivable that Oscar and Big Bird and Elmo would disappear absent taxpayer subsidies.
So what? So Bush's mistake was in not slashing the budget to zero.
Yeah, I'm sure there are plenty of people out there who disagree with me. But you know what? Just save it until after the budget process is complete, okay?
Why? I'll tell you why. Dollars to donuts, whatever cuts Bush is recommending in his budget will be put back long before the budget becomes reality. Every single dime of it. Mark my words.
If I'm wrong? Then come yell at me.