"He dead"
For some reason, that line from Joseph Conrad's "Heart of Darkness" has stuck in my head ever since I heard the news about ol' Slobodan quietly kicking off in his jail cell.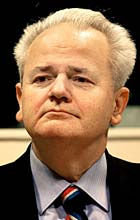 Yep, Milosevic is dead, and everyone seems pretty happy about it. There doesn't seem to be any significant post factum hand-wringing about whether we did the right thing by removing this evil dictator from power.
That's odd, in a way, considering Milosevic



didn't attack us on 9/11

wasn't allied with al Qaeda

and didn't pose a direct threat to the United States or American citizens

Not only that, but the military campaign that unseated him was not sanctioned by the U.N. Security Council. And yet toppling Milosevic was just A-okay.
The reason this should be the case is left as an exercise for the reader.