Bigots and ribbon magnets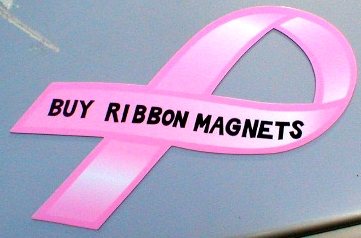 I've never been even remotely tempted to buy ribbon magnets for my car, but after reading this woman's bigoted post on Kos, I'm tempted to buy hundreds of them. I want to plaster them all over my suburban assault vehicle, so many that you can't even tell what color it is, and cruise around her neighborhood just to piss her off.


It's about those damn Support Our Troops magnets and the like. Please take them off your car.

I am the wife of an army reservist. My husband has not been called to active duty, but could be at any time. Every day there is a possibility that my life as I know it could be drastically changed. I know other military families who are in the same situation, and I know military families whose lives have already been drastically affected. It is the sword of Damocles hanging over our heads.

All that being said, what in the world does slapping a magnet on your vehicle have anything to do with supporting our troops? Everytime I see one, particularly when it mixed in with the "W" sticker and the screaming American eagle decal, I am insulted. Many times, the yahoo whose got the sticker on his car is of military service age, but would rather talk tough than put their ass on the line.

If you really want to support our troops, start calling for accountability and truth from this administration. If you really want to support our troops, start bugging your congress critters for a smart and strategic plan of action to bring our troops home. If you really want to support our troops, examine your congress critter's voting record with respect to their votes on legislation the aides our active and veteran military. If you really want to support our troops, ask your congress critter (where applicable) why s/he has voted against legislation benefitting our military men and women. If you want to support our troops, put your money where your mouth is and enlist - I hear they just raised the age to 42 to placate the throngs of folks who want to join

But for gawdsakes, take the damn magnets off your car.

She never explains how the ribbons do any actual harm to anyone -- she just doesn't like them, and she seems rather insistent that we all take them off our cars. Allow me to gently propose a counter-argument, "Tiger-Mom." Let's see, how shall I phrase this? How about: "Fuck you." Yes, I like that. I'll put whatever the hell I want to on my car. You decorate your ride the way you see fit, and I'll do likewise. See, that's how American works.
You know what your problem is? You're a self-righteous bigot. You wantonly pre-judge and categorize people you've never met based on the fact that have a "Support the Troops" magnet. Yes, I'm sure that many ribbon magnet owners do indeed fit the stereotype you describe. I'm equally sure that many others are very much like yourself, and many others still have family members who are actually serving in Iraq, Afghanistan or elsewhere. Sorry you don't like the ribbons. They're not my favorite fashion statement either, in fact. But at the end of the day, it's really neither your business nor mine what other people choose to put on their car.
You have found your way to support the troops. Good for you. I mean that. But you go too far when you start believing your way (i.e., opposing Bush and opposing the war) is the only way. That's the very definition of bigotry. I find there is much such bigotry among the left these days. They seem to think that as long as it's not directed at blacks or gays that it's okay. Well, it's not.

(Hat tip: Jill)