Big day in Connecticut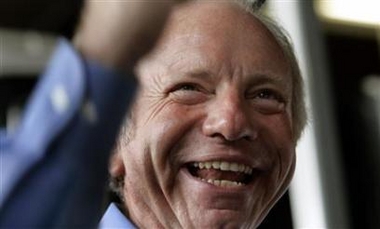 Just because I don't really care who wins today's primary race between Joe Lieberman and Ned Lamont doesn't mean the race is unimportant. But beyond the fact that I have a case of beer riding on Lieberman, I haven't been able to get nearly as excited about the race as everybody else.
Still, I've remained fascinated by the race itself. I can't take my eyes off the spectacle of Democratic activists targeting one of their own safe seats with a zeal and a passion that's usually reserved strictly for Chimpy McHitlerburton himself. In reality, of course, Lieberman is hardly a Bush sycophant. In fact, he's not even Zell Miller. Go figure.
Equally absurd is the phalanx of prominent conservatives (including Sean Hannity and Ann Coulter) who are going to the mat to help get Joe re-elected. It's all symptomatic of the way the war in Iraq completely defines contemporary American politics, often bizarrely distorting the political landscape in the process.
Most Republicans I know are actually hoping for a Lieberman defeat, for the following three reasons (ranked in order of increasing significance.)



The GOP's chances of picking up the senate seat would improve from "a snowball's chance in Hell" to "a snowball's chance in Miami."

The Republicans would be united with a very popular governor at the top of the ticket, while Democrats would be split if Lieberman makes good on his promise to run as an independent. This would likely benefit some Republican House members in tough re-election fights in Connecticut. Several house seats in the states are considered competitive, and it's not inconceivable that control of the House could come down to how these races play out.

A Lamont win would signal the end of the Clintons' era as de facto party bosses. The new marching orders would come from the Kos/MoveOn wing of the party. This, of course, is Karl Rove's wet dream.

I suppose I see their points with numbers 1 and 2, but I can't really get excited over number 3. Call me crazy, but I think the country would be better off with a viable, centrist Democratic Party than with a nonviable, moonbat party.
So net it all out and throw in the case of beer and it still comes out a wash for me. With Lamont enjoying double-digit leads in many polls and with all the passion and motivation on his side, I can't imagine the returns tonight will be particularly exciting, but I'll follow them anyway, just to watch the reactions.