Stuff that's pissing me off today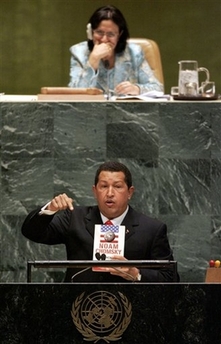 Look.
It's our United Nations at work, people. Aren't you proud?
Hot on the heels of Mr. Nuke-Israel's little temper tantrum, we're now treated to the spectacle of Venezuelan gadfly and Cindy Sheehan love interest Hugo Chavez blasting Bush as "the devil," complaining about the stench of sulfur, and hawking a book by Noam Chomsky (Chomsky must be so proud.)
And I've gotta ask... for such an august body as the U.N., can't they do something about that shitty green tile? I mean the whole world is watching. Don't they know we're sick of seeing that? Don't they think it's time for an upgrade? I imagine all the break rooms and kitchens at Turtle Bay must be absolute nightmares of Harvest Gold and Avocado Green.
And as if Sean Penn as Willie Stark weren't horrific enough, we're now faced with the prospect of Spicoli playing Albert Einstein. That's nearly as blasphemous to Einstein's memory as Yahoo Serious.
And finally, can we all agree that putting Saddam on trial was a colossal mistake? The Mussolini option is looking better and better in hindsight.
Sure, we might have taken a P.R. hit at the time, but it would have been a one-off, and the story would be over. It would surely have been preferable to the cumulative effect of this ludicrous, ongoing spectacle. Amnesty International would have bitched, of course, but there's always the "Jimbo Kern" workaround:
"Look! In that hole! It's Saddam Hussein!"

"He's headed right for us!"

Bang.