Classic cheesy horror films
Sam Raimi's Evil Dead II has long been one of my favorite, campy B-grade horror movies of all time. It is great in so many ways it would take too long to explain here, so if you haven't seen it, rent it and watch it at your earliest convenience. No need to bother with the original Evil Dead. Trust me, it is completely nonessential to see that in order to watch and appreciate the "sequel."
But... I was walking around Manhattan Saturday, and I saw a poster so oddly bizarre that I had to stare at it for about 20 seconds before I convinced myself that I was actually seeing what I thought I was seeing. I was. Evil Dead: The Musical. So now you know. I don't even know what to say about that.
Speaking of campy horror films, this got me thinking, for the first time in years, of a crappy old spook flick that I saw at least a dozen times as a kid. It was a Sunday afternoon staple of my local independent UHF channel (who remembers those?) called "Equinox", a title which made absolutely zero sense (although it did inspire me to look the word up in the dictionary, and I was disappointed that it had to do more with seasons than with demons.)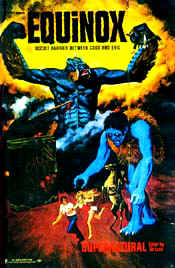 Even during my pre-adolescence, I could recognize the extraordinarily poor production values that went into this ridiculous movie, and yet for some reason I still remember it fondly. When I say I probably saw Equinox a dozen times, I don't mean all the way through. In fact, I've probably never once seen it in its entirety from start to finish.
I'm pretty sure I've seen all of it at one time or another, but I'd catch 10 minutes of it here, 15 minutes of it there, not necessarily in sequence, of course, but it proved to be an okay way to watch the movie. Indeed, there was something about the movie that almost invited you to watch it in fragments like that. The cool part about it was that some parts of the movie were so different from others, they almost seemed like they came from different movies altogether, and maybe you thought they did, until the movie's name was revealed during the next "station identification." You could always feel free to begin watching Equinox in the middle, much as you can watch Evil Dead II without benefit of Evil Dead (I).
I have to wonder how Equinox has aged over the years. My guess is "not well," particularly since it started out as crap in the first place. Anyway, I can't resist a little stroll down memory lane, and when I found that, yes, it is indeed available on DVD, I immediately put it in my Netflix queue. I'll let you know how it goes.
So does anybody else out there remember this quirky little flick, fondly or otherwise?