Misleading nonsense at Firedoglake
If Connecticut wants to oust Joe Lieberman for his support of the war, then fine. Many of his critics, however, seem worried that the war alone might not be sufficient, so they're hurling everything they can at him hoping some of it will stick.
This trend reached its ludicrous apex, in my opinion, in this Jane Hamsher piece posted at Firedoglake.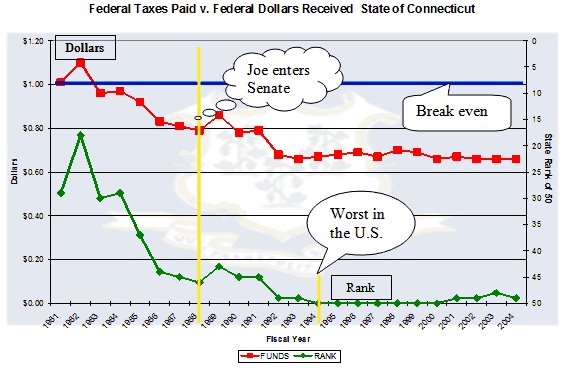 Now I'm no fan of Joe Lieberman, but this strikes me as a grossly unfair and disingenuous abuse of statistics. Hamsher slams Lieberman because Connecticut sends more money to Washington than it gets back by a higher ratio than almost any other state.
True enough, but this ratio tends to increase as a function of a state's wealth. Richer states tend to have a net outflux of dollars to Washington and poorer states a net influx. Connecticut is, by some measures, the richest state in the union, and in an indirect way, that is why Hamsher is slamming Lieberman.
Maybe it's just me, but I find that pathetic. Perhaps it's just desperation, as Lieberman's lead four weeks out is beginning to look insurmountable. Perhaps when your "referendum" on the Iraq war looks as if it won't turn out the way you want, you start urgently trying to make it about other issues as well. Still, criticizing Lieberman for not turning Connecticut into Mississippi seems like a bit of a stretch to me.