My choice for Congress
My current congressman is the best one I've ever had. I have the distinct pleasure of being represented in the U.S. House by the Honorable VACANT. He represents my views better than any politician ever has. Sadly, however, he's not up for reelection. Next month, his seat will be taken over by a living human.
So whom to vote for? Libertarian Len Flynn is running for Bob Menendez's senate seat, so he'll get my vote in that race. Unfortunately the LP doesn't seem to be fielding a candidate for New Jersey's 13th congressional district. I guess I'll vote Republican if I have to, but in casting around for alternatives, I did run across Herbert Shaw's name on the ballot. Check out the party line that he's running on.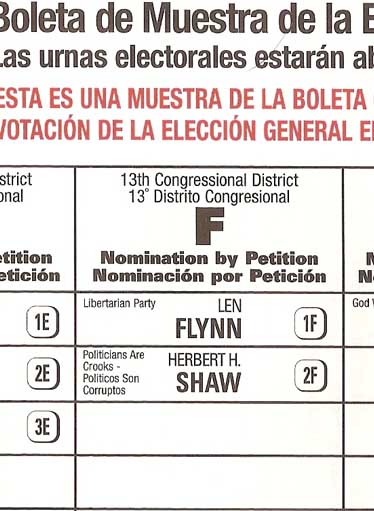 Definitely sounds worth checking out to me.
PS -- Yes, I know. The ballot is almost entirely in Spanish. Don't even get me started.