Stop complaining already!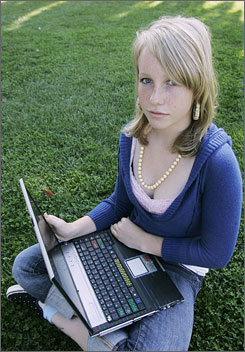 Christ almighty, you'd think they waterboarded this girl the way some folks are going on. I don't like harassive police techniques any more than anybody else, but the controversy about the Secret Service and Julia Wilson seems a bit overblown to me. What did they do that was so terrible?
The Secret Service has an obligation to investigate any such cases, whether the girl is 14 or 94. It's their job. I'm sure they knew that this case wouldn't amount to anything, but they don't have the luxury of simply dismissing these incidents based on their gut.
Tell me, what made it so bloody obvious that the girl wasn't a threat? Because she was in high school? (see Klebold and Harris.) Because she's a girl? (see Squeaky Fromme.) Because she's cute? Because this is the kind of stuff I'm hearing, and it's not terribly convincing.
I guess it's easy to see why this story made the rounds -- it fits in so nicely with the moonbat narrative of an out-of-control federal law enforcement under the Fascist-in-Chimp. It's still bullshit, though.
Deep down, even the liberals realize this. If pressed, they will grudgingly admit that it wasn't unreasonable for the Secret Service to take a quick look, just to err on the side of caution. Then, of course, it becomes about criticizing their methodology. They should have waited to have her mom present, or they shouldn't have taken her out class, or they shouldn't have made her cry, or whatever. I guess some people don't like it that the agents didn't play patty cake and give her milk and cookies. Well boo-fricken-hoo. They're federal law enforcement agents, not social workers or school nurses. Guess what? Maybe, just maybe they thought that as Secret Service agents they had more important things to do than to cool their heels in a high school for two hours on the taxpayer's nickel, waiting on recess to avoid embarrassing a teenage girl.
Look, they checked the girl out, confirmed their suspicion that she wasn't a threat, and that's that. It's done. She's clear. I'm sure the girl didn't enjoy being questioned. I wouldn't either. I'm sorry she cried. I'm sure it was a bad day for her. But really, the "ordeal" she endured does not seem at all out of proportion with what she did.