Meet the new king of the Senate
My prediction has come true. Forget Harry Reid. This is the most powerful man in the Senate.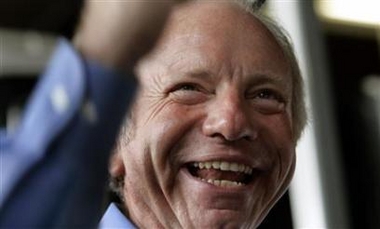 Here is the reality of what the Kos Kids have accomplished. With Lieberman, the Democrats have a senate majority. Without him, they do not. That makes him a very, very important person to Harry Reid. The new senate leadership, however, has little leverage over him, since he's technically an independent. He owes the Democratic Party precious little, since only 25% of Democrats in his home state voted for him.
Lieberman announced he is going to caucus with the Democrats, since they agreed he could keep his seniority. That's no surprise, but what is surprising is the way Lieberman chose to deliver the news (emphasis mine.)


Lieberman briefly joked about how the Republicans might coax him into joining the GOP, a switch that could keep the closely divided Senate under Republican control.

"There is a little playfulness in me that wants me to make a joke about that, but it's too serious. The answer is no," he said. "When I give my word I stick with it, and I am definitely going to organize with the Senate Democrats."

Translation:
"Since Harry Reid bribed me with a pretty sweet deal behind closed doors, I'll vote with the Democrats... for now. But the second they piss me off and don't agree to everything I want, all bets are off."

He said he delivered that message Wednesday in a phone conversation with the Senate Democratic leader, Harry Reid of Nevada. He did not take Reid's call on election night.

Translation:
"Screw Harry Reid. He's the one who needs to lick my ass, not the other way around."

"He was gracious enough to call me last night, but in the pandemonium, I didn't get to take the call," said Lieberman, who did accept a congratulatory call Tuesday from a Republican friend, Sen. Susan Collins of Maine.

Translation:
"Did you get that message, Harry? I take calls from Republicans before I take them from you. Do you get what I'm sayin' here, buddy? The Democrats weren't there for me, but I'll be gracious and be there for them... so long as I feel like it, har har har..."

"My mission now is really an independent mission," Lieberman said Wednesday, calling his win a mandate to "be beholden to no one except the voters of Connecticut and my own conscience."

Translation:
"You're not the boss of me! In fact, you're my bitch now, Harry! How do you like it, bitch? Huh? Huh??"

Other than keeping his seniority, he was asked, what is the reason to organize with the Democrats?

"Well, I've been a Democrat," he replied.

Any reasons beyond that?

"Seniority is an important factor," he said.

Translation:
"I have nothing, nothing keeping me loyal to the Democrats. If they forget that, they do so at their peril. Bow down before me, Harry. Kiss my ring. KISS it, beeyatch!! BWAHAHAHAAAA!!!"
Nice going, Kos. Nice going, Jane. Look what you've created.
This should be entertaining.