Edwards and the bloggers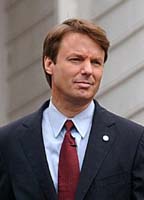 John Edwards' base looks much like Howard Dean's -- reasonably affluent, highly educated urban white liberals. These are people for whom the blogosphere is a powerful, important and dynamic force. John Edwards knows that, and his campaign takes the blogosphere very seriously.
That's why I wasn't surprised to learn that the campaign had hired Melissa McEwan (aka Shakespeare's Sister) and Amanda Marcotte of Pandagon fame into prominent positions.
I've never been a fan or Marcotte's writing, but I've long had a soft spot for Shakes. I don't suppose I'm betraying any confidences by saying that Melissa and I have corresponded cordially for some time now, and I find her to be warm, witty, frighteningly intelligent and intellectually honest. She's patiently tolerant of my insipid comments on her blog, and she has a curiosity and a genuine desire to understand the "other side" that's all too rare among partisan bloggers these days. For all these reasons, she's consistently remained one of my favorite bloggers for quite some time, although I often disagree with her.
As you might expect, I think Shakes is getting a raw deal in the firestorm of controversy that erupted almost immediately after these bloggers were hired. Rumor is that the two have been unceremoniously sacked, almost as quickly as they were brought on board.
You'll probably hear that the two bloggers' fortunes turned against them because they like to say "fuck" a lot, or use terms like "Christofascist wingnut" on their sites. Don't buy it. It may be true, but it's not the reason. As I said, the Edwards campaign takes blogs very seriously, and it's clear that they spend a lot of time canvassing the blogosphere (see, for example, my update to this post.) I'm sure the campaign didn't hire McEwan or Marcotte without a thorough perusal of their sites, and you can't read either one of them for more than two seconds without realizing that vulgarity is their stock in trade. Edwards clearly knew that going into this, and clearly didn't care. That style of rhetoric is more the rule than the exception in the progressive blogosphere, and everyone knows it. That's not reason enough to turbo these nascent careers.
I think the whole scandal started when Marcotte's preposterous defense of Mike Nifong came to light, long after the rest of the sane universe realized that he was an amok, out of control DA, bizarrely obsessed with prosecuting a rape that never happened. Remember, the Edwards campaign is based in North Carolina, where Nifong is currently about as popular as William Tecumseh Sherman.
This was followed by Marcotte's inept airbrushing of said comments from her site, which only made matters worse. She could erase embarrassing posts from her blog, but not from the Google cache. When busted on this score, Marcotte seemed to allege persecution at the hands of the many-tentacled and ubiquitous VRWC. I think at this point, the campaign realized its mistake.
So where's Shakes in all this? An bystander caught in the crossfire, if you ask me. She suffered from having been introduced to the meatspace political world as part of a "package deal" with Marcotte. They're both "irreverent." They're both "provocative". They're both "progressive." See, they're exactly the same! Hired together, fired together.
I don't know how this is going to shake out. Perhaps the lesson is never to trust a slick, blow-dried trial lawyer. Or perhaps it's simply that politics is a dirty, ugly business. Still sucks for Melissa, though. And it's hard not to agree with this guy:


When Edwards hired Marcotte he signed up to a hard hitting unapologetic movement, a movement whose rhetoric is, shall we say, not always appreciated in the mainstream. If he backs off the ethos now, he can kiss their support away forever.

Yep.
UPDATE: Looks like that last bit won't happen. Edwards spanked the bloggers for their rhetorical excesses but is sticking with them