Maybe Steve Jobs doesn't suck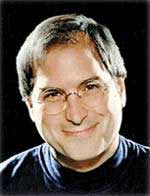 I'd always viewed Steve Jobs as a smug, annoying prick, and, well, I guess he is.
Still, I've got to give him props for this.


...Steve Jobs offers straight talk about DRM and why the labels insisted on it, then lays out three possible ways forward: a continuation of today's incompatible DRM situation; Apple licensing Fairplay to other online music stores; and the total "abolition" of digital rights management.

After thoughtfully weighing the pros and cons of each, Jobs concludes that the best course of action is to abandon DRM completely. He then asks for help in convincing record labels to allow Apple to sell music without it, writing, "Perhaps those unhappy with the current situation should redirect their energies towards persuading the music companies to sell their music DRM-free." The essay offers a fair assessment of the situation, in my opinion, although I would be happy to hear what other people think about this in the comments section.

All right, I'm not naive enough to believe that there isn't a competitive angle to his position here, but it's damned refreshing to hear anyone this close to the business side of the music industry to say such a thing. Hell, I might have to buy an Apple after this. (iPhones are still gay though.)