Political activism, CN style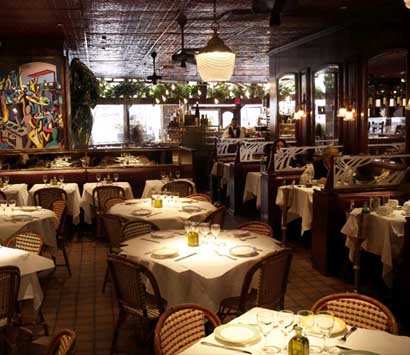 This is Fiorello's Roman Cafe, at 1900 Broadway in the city, across from Lincoln Center. Try the tuna fillet; it's spectacular. The pizza is also extraordinary. In fact, feel free to try any (or all!) of the restaurants in the The Fireman Group. You can't go wrong.
I lived for years on Manhattan's west side, and these eateries were fixtures on our "eating out" roster. They were always a safe bet for good, reliable food in a hassle-free environment, where the atmosphere is nice, but you don't have to be Henry Kravitz to get a reservation. We became regulars at more than one restaurant in the group.
Sadly, these establishments are collectively under siege by a malicious shakedown campaign of intimidation and extortion.


It's causing chaos for the city's upper-end eateries -- without apparent benefit to anyone except the folks wreaking the havoc. They say their goal is social justice, but some would say it looks more like a shakedown.

The group's name is ROC, the Restaurant Opportunities Center, and it has targeted top restaurants (Redeye Grill, Daniel, Cité and more) for payments -- allegedly in the name of restaurant workers.

With considerable success -- for ROC and its chieftains, that is. Workers, it seems, haven't benefited much.

How does it work? Ask Shelly Fireman, the patriarch of the Fireman Hospitality Group, which owns Redeye Grill, Shelly's and other eateries. He's been a ROC target for 15 months.

"In November '05, ROC stormed our restaurant, Redeye Grill, in the middle of dinner service, armed with loudspeakers, noisemakers and cameras," Fireman wrote in Restaurant News.

They handed him a letter accusing him of "subjecting our employees to wage and hour violations, sexual abuse, verbal abuse and racial discrimination... The letter demanded we send them $3 million and threatened that if we refused to pay, ROC would launch pickets, media attacks and lawsuits against us."

Fireman contacted ROC immediately -- but the group's chief, Saru Jayaraman, said she had no specific claims. Yet she still demanded to bargain collectively on behalf of all Redeye employees.

He declined -- federal labor law prohibits employers from bargaining with any "representative" who hasn't actually been chosen by his workers.

So ROC launched weekly protests at his restaurants. Then, after the National Labor Relations Board ruled in 2005 that ROC's protests are not legal job actions, Jayaraman agreed to cease and desist -- but instead ramped up the protests.

Regular readers know I'm not much into political activism. I much prefer to bitch and moan about the way things are without actually doing anything about it (it's more fun that way.) But sometimes, every now and then, "doing the right thing" can mean going out to a nice dinner with friends and ordering many, many drinks. This is one of those times. Let's help Shelly Fireman fight these street thugs. I hereby urge all of my readers to go patronize Fiorello's or one its sister restaurants. Go early and go often! I'll be there. Find my table, and I'll buy you a drink! Offer good while supplies last.