Today's crappy cell phone pic
So this was kinda cool. I was at this benefit auction last night and one of the items up for bid was House's cane. I didn't win it. But there was an open bar, so I was happy.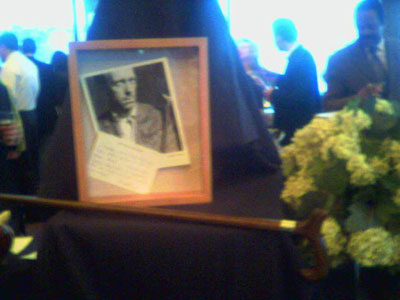 Man, if I'm gonna keep photo-blogging, I'm going to need decent cell phone camera. A French friend of the family was visiting us last week, and the camera in her cell phone was better than my standalone camera. Plus, it held like a thousand relatively high-res images. And it was an MP3 player. And an FM radio. With a web browser. Oh, and you could also make phone calls on it. It's a disgrace that a supposed techno-geek like myself could be put to shame by the gadget of someone from a third world country like that. I guess I'd better go phone shopping next week.