New York sucks for guns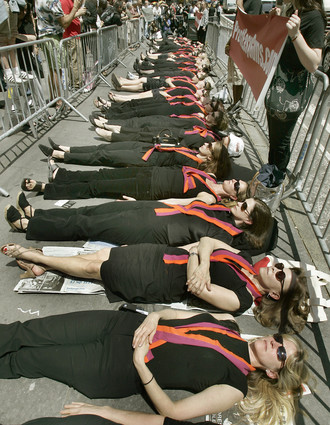 In a stupid, meaningless gesture, 32 New York women lay down in the street to protest the Virginia Tech massacre. This was a fleeting protest, however, symbolizing "the few minutes it took the shooter to get a gun in Virginia."
Wonder why they didn't lie down for the whole umpteen hours it took incompetent cops and campus security to arrest the guy before he shot up the whole goddamn campus? Seems like that'd be something to protest, doesn't it? But probably woefully inconvenient if it risks making you late for your pilates class, or if it might cause your decaf soy vanilla latte to get get cold.
Why are New Yorker's so goddamn obsessed with Virginia's gun laws? The New York that I fell in love with was a city that prided itself on minding its own business. How would New Yorkers feel if Virginians regularly engaged in demonstrations to protest New York's treatment of abortion, or gay rights?
Because New York's meddling in Virginia's gun laws is not limited to these 32 twits. Mayor Mike Bloomberg, having completely solved all of New York's problems, recently hired some private detectives to go to Virginia and make illegal firearm purchases. The fact that Bloomberg's hires actually broke the law should be overlooked, of course, because Bloomberg was trying to... well... something. Whatever.
Anyway, Virginians were predictably unimpressed with Bloomberg's meddling, and hence we have the first annual Bloomberg Gun Giveaway (hat tip: Glenn)
Gotta love the cake.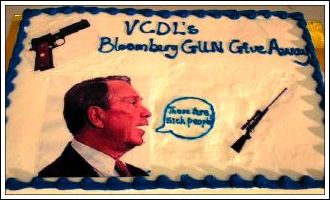 as well as some of the attendees: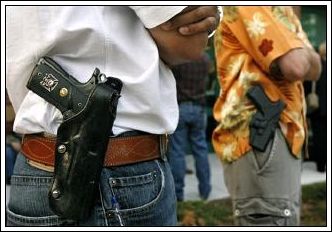 You know what? I owe an apology to Rudy Giuliani. When I watched his performance in the first GOP presidential debate, I was a little disappointed by some of his responses. At the time, I found his formulations of "that's what we thought appropriate for New York, but it might not be appropriate for the rest of the country" to be disingenuous.
Now, however, I think I know what he means. Because as someone who's lived in Manhattan under Bloomberg, I think he's a pretty good mayor for the city. The prospect of his running for president, however, fills me with dread and terror, given his penchant for dictatorial nannyism.