Obligatory Vick post
Robert Byrd may be a senile old fool, but I agree with everything that (I think) he says in his own befuddled, doddering way in the video below.
I happen to think that pit bulls are the most tragically and unfairly maligned creatures on the planet. Sure, some of them are monsters, because they have been made to be by the likes of Michael Vick. The real crime is what humans have done to pit bulls over the years, not the other way around. Speaking of pits, here's a recent picture of my wife with one of the vicious killers sitting on her lap.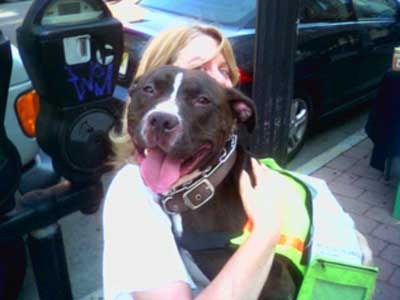 It takes a particularly evil human to take a creature like that and wantonly turn it into a killer. Their efforts aren't always successful, of course. There are always the dogs which, no matter how much intentional abuse and cruelty they are subjected to, simply refuse to turn mean. Of these, the lucky ones are merely abandoned or neglected. The unlucky ones become bait.
I don't believe in the death penalty, but wouldn't it be a fitting punishment for dog fighters to spend a few hours in a cage, duking it out with 3 or 4 of their own creations? Their punishment would come at their own hands, at least indirectly. I imagine it could look something like this.