Al Gore as corporate stooge?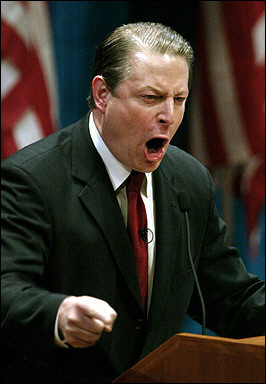 I missed a lot of big stories during my recent hiatus, but my friend Mal seems to think that Al Gore's Nobel Peace Prize is among my most egregious abdications of duty. What's not clear is why. In my mind the Peace Prize is even less significant than Time's Man of the Year, and you and I've both won that one ourselves, Mal.
Here's an exercise for the readers. If a "peace" prize has been awarded to the likes of Henry Kissinger, Le Duc Tho, and Yasser Arafat, how much can it really be worth? Wait, I actually know the answer to this. It's exactly whatever the cash value of the prize is these days, which I'm too lazy to look up.
And at least for the past few years, the award has been synonymous with "Best Liberal Performance on the World Stage," so I submit that Gore's joining the ranks of political has-beens like Jimmy Carter is appropriate.
But all of this is beside the point. Why did Gore win the Nobel Peace Prize this year? Because this is the year that he ceased being a real threat to global corporate hegemony. Did any of you guys actually see his movie? After an hour and a half of all the "WE'RE ALL GONNA DIE!!!" hysteria, what are his solutions? Recycle and buy compact fluorescent light bulbs. Meanwhile, the rest of us Hollywood and Washington elites will continue to jet around to Oslo and Hollywood on private planes to give acceptance speeches, with each such flight completely undoing the annual conservation efforts of scores of Gore-ists eco-warriors.
What Al Gore has done is transform the anti-global warming effort into a retail phenomenon, shifting the onus of sacrifice away from governments and giant multinational corporations. Case in point? A friend of mine works for a company that's one of New Jersey's top polluters (and which shall remain nameless.) This company recently adopted a new "green" policy. Dpes that mean the company will scale back its greenhouse gas emissions? No,it means that all the employees are encouraged to stop using plastic forks and spoons to eat their lunch, and to bring silverware from home instead.
That's why Gore is being celebrated on the world stage, and why the corporate elite are so newly willing to embrace him and his message. The corporate leaders get the good PR of appearing "green," while any inconvenient notions of sacrifice are confined to peons like you and me. That's why I disagree with much of what Paul Krugman says here but do agree with him on one point: I can't understand the vitriol that some on the right are heaping on Al Gore in the wake of this award. Gore, like most other recent recipients of the Nobel Peace Prize, has won it largely because he's been defanged, and no longer represents a threat to the powers that be.