Frontrunner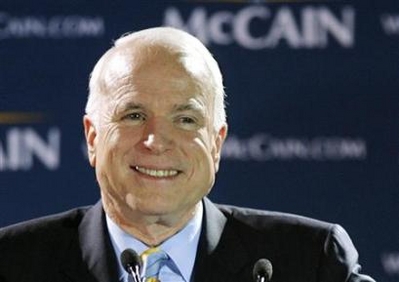 Okay, I'm considerably calmer after last night's Florida primary. John McCain had a convincing win and looks poised to go into Super Duper Tuesday with fresh momentum, a lead in the polls (and now delegates too) as well as the endorsement of Rudy Giuliani.
Sigh. Rudy. That'll be a bittersweet moment. He was my other favorite candidate, but I always knew it would eventually come to down to (at most!) one of them. And if I'm being honest, I knew that Rudy's temerity was ill-fitting for the office of the president. Still, his blend of fiscal conservatism and social liberalism was unique in this party, and seemed made to order for Republicans like me. Oddly enough, I thought Rudy's supposed "strength" (national security) was in fact a weakness. I liked Rudy because of his domestic agenda.
But McCain's ascendancy is encouraging too. It's shown that the Republican Party isn't completely controlled by the blow-hards of conservative talk radio. Let's face it, they've been hitting McCain with everything they've got for weeks now, but in the end, McCain prevailed. That's a good sign for the party. We've got a long road ahead to repair the damage it's sustained over the past 7 years, but last night struck me as a good first step.