Robert Bork sucks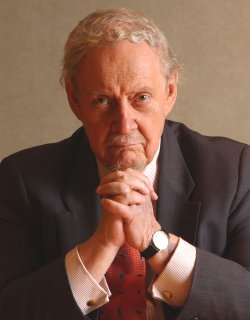 Sorry, but I just don't know how to put it more succinctly. It might not be high-minded political discourse, but it's the effective equivalent of what the likes of Bork, Limbaugh, Sean Hannity and Mark Levin have been spewing against John McCain of late.
Judge Bork, in a recent appearance on Mark Levin's radio show, said this about the current occupant of Barry Goldwater's old senate seat:
"I don't think that Senator McCain or Governor Huckabee deserves to be called a conservative."
Who died and left Bob Bork as the ultimate arbiter of true "conservatism?" (I thought Andrew Sullivan already had that job.) Bob Bork has about as much business lecturing me on conservatism as Britney Spears lecturing me on childrearing, or me lecturing anyone about temperance.
I used to like the guy, but that was before I got to know him. Why my fellow brethren on the right continue to fawn over him is beyond me. Yes, I know Reagan appointed him, but he also appointed Kennedy and O'Connor, and I don't see the masthead over at National Review swooning over them.
I was brought up to believe, as Ronald Reagan did, that a limited, constrained federal government was the primary principle behind American conservatism, and a guarantor of American liberty. I think that if Ronaldus Maximus (Peace Be Upon Him) were still with us today, he'd breathe a sigh of relief that Bork was not confirmed to High Court. Look, I know how distasteful it is to be on the same side as Ted Kennedy about anything, but consider how well Bork's opinions fit with the Reagan/Goldwater definition of limited government conservatism.
Bork glibly denigrated and disparaged the Constitution's Ninth Amendment, which was traditionally cherished by conservatives as a bulwark against expansionist government.
He has written against jury nullification, implying that we, as juries, do not have the right to refuse to convict our fellow citizens under unjust laws.
Conservatives support tort reform and hate trial lawyers, right? Check this out.
Bork has openly and unashamedly called for blatant government censorship.
And, worst of all (and this should really preclude Bork from ever opening his fat trap to disparage someone else's conservative bona fides) he has opined that the Second Amendment does not imply an individual right to bear arms.
Plus, he's starting to look more and more like Tony Randall all the time, as the above picture shows.
Well, fie upon him (fie, I say!) But truth be told, this post isn't really even about Bork. Rather, it's about John McCain. I look at the recent polls that show him with a double-digit lead nationally, and I'm encouraged... but I'm still damned nervous. The mass-market Right has launched a concerted broadside against the good ship McCain, and like it or not, they have considerable influence amongst the people who are likely to vote in Republican primaries.
I'm heartened to see McCain with a lead in South Carolina. I'd like to think he can hang on to it, since Lindsey Graham (God bless him) and much of the Palmetto State GOP machine is behind him, but can South Carolina polls truly stand up to this sustained anti-McCain barrage? I'm already starting to hear reports about Fred F'ing Thompson (Rush's clear favorite) surging in my old home state.
God only knows. But to this day, John McCain remains the only politician I have ever donated money to. I think that tonight, I may go donate some more. I have a sinking feeling he may need it.