John McCain is cool and so am I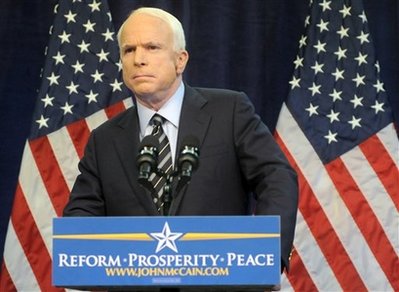 I spent the better part of yesterday evening and last night posting on numerous blogs and discussion boards about what a shrewd tactical move I thought it was for John McCain to suspend his campaign to head back to Washington and deal with this bailout bill head on.
I spent so much time and energy commenting on other people's sites that I forgot I had a blog of my own. That's too bad, because if I'd posted all that stuff here (and some of my lines were really, really good) then I would have looked much more prescient and wise and intelligent than I already am!
Why? Because there's some evidence that the polls are already starting to bear me out. Gallup's track shows that McCain has completely closed the gap. It's all tied up now, even though Obama has led by at least three points for more than a week -- and only one third of the data in the mix was taken after McCain's dramatic announcement. Moreover Zogby (yeah, yeah, I know) has McCain up by 2 today, after being down three in the most recent survey.
I recognized this as a winning move as soon as I saw it. It reinforces his whole "Country First" narrative ("I would rather lose and election than blah blah blah...") while at the same time putting Obama in a no-win situation. Either he takes McCain's cue and hurries back to Washington himself (in which case McCain comes across as the leader and Obama a follower) or Obama refuses, and comes across as a glib freshman senator unwilling to set aside temporarily his quest for the White House during a time of national crisis.
Was it a campaign stunt? Of course it was! (Although as Frank points out, one involving motorcycles would have been cooler.) But I also think it was a very effective stunt, and one that also happens to be sound policy.
The reality is that the Fed, the Treasury and Congress are on the verge of putting taxpayers on the hook for the better part of a trillion dollars, in what is arguably one of the most important pieces of financial legislation in a generation. I don't think it's at all unreasonable to expect both senators to get their asses back to Washington and do the job that the voters elected them and the taxpayers pay them to do -- to debate the merits of this bill and then stand up to go on record with a "yea" or a "nay."
I think that Obama really believed he and McCain were going to get a pass on this one -- that because they were out on the campaign/debate trail, they were going to be able to whistle past the graveyard with a "present" vote. Well it doesn't look that way anymore.
And stunt or no, McCain can pull it off better than most. He has a lengthy track record of subordinating GOP interests for the sake of shepherding through some supposedly important piece of legislation or another, and everyone knows it. The mantle he assumed yesterday looked familiar and natural on him, not affected.
I also predicted (and continue to maintain) that McCain will indeed attend the debate. The suggestion that McCain is afraid to debate Obama one-on-one is ludicrous. The whole debate issue was designed to get Obama to go on record with his priorities. McCain will show up and he will debate, and if he has to do it wearing yesterday's clothes because he just rushed in from DC? Well, that's okay too.
The funny thing is, McCain's been pulling this kind of rope-a-dope with the Dems for as far back as I can remember. You'd think they'd learn.