Gunning for redneck votes
Remember Howard Dean's much-derided voting strategy of "guns, God and gays?" John Kerry didn't get the memo. The past two weeks have seen him pander shamelessly on all three fronts, but none so shamelessly as this.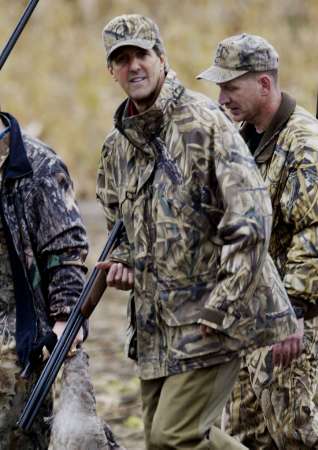 But I've got a question. Does anybody actually think it's going to work? Can you imagine any self-respecting, gun-toting redneck watching this cheesy photo op and saying, "God Dawg, that French-lookin' feller shore can hunt! I b'lieve I'm gone vote for that sumbitch!"
Sorry, but it ain't gonna happen. I grew up with these people, and they're a lot harder to fool than that, at least when it comes to subjects like hunting. I graduated from a high school that was so rural it was in the middle of a cow pasture. Many students began the school day exhausted, because they'd already been out deer hunting since 4 AM that morning. Pre-school bell conversations often finished with, "I blew a hole in that sumbitch this big!" (around a mouthful of Red Man tobacco, holding hands very far apart.) These people are the real deal, and I can tell you they don't take kindly to Kerry-esque affectations. This ridiculous hunting stunt would never pass the Bubba smell test. Cameras were forbidden when Kerry actually fired his gun, and the senator let someone else carry the goose he supposedly bagged, because he was still "too giddy over the Red Sox."
NRA spokesman Chris Cox had what I believe to be the best line of the day: "Spending an hour in a goose blind doesn't make up for 20 years of voting against hunters."
No, if this stupid stunt has any effect at all, I predict it will be to alienate the anti-gun, animal rights wing of his base.