Happy Thanksgiving!
My wife and I are leaving today to fly down to the "red states" for Thanksgiving. I hope we don't get lynched as being "evolutionists" or "heliocentrists" or some other kind of heretic. Ah well, such are the perils of travelling in "Jesusland," I suppose. There's no "internets" in those benighted provinces, of course, so blogging will probably be light to nonexistent until next week (CRB, feel to post as often/seldom as the spirit moves you.)
For those who don't know, deep-frying turkeys has become all the rage in the red states. I am sold on this method of turkey preparation, and have recently purchased my own turkey fryer. My wife is still a bit skeptical, however. For one thing, she likes to cook stuffing inside the bird, which does become problematic with this cooking method.
For anyone who's curious, I would highly recommend you try it. Just please be careful, as that's a lot of really hot grease you're messing with. I'd tell you not to attempt turkey frying while intoxicated, but really, what sober person would try to fry a turkey? Just use a bit of caution. Don't do this.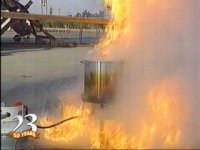 Or this.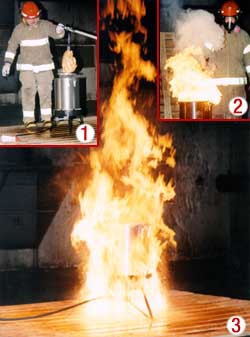 But above all else, just have a great time with friends and family. Eat lots of good food, and remember the spirit of the Pilgrims and the Indians and Miles Standish and Pocahontas and Belle and Ariel and all our Thanksgiving heroes. Despite the rampant commercialism of the holiday season, we should try our best to rediscover the true meaning of Thanksgiving: We're thankful to be Americans. France sucks. Eat turkey.
Happy Thanksgiving, everybody!
See you next week.