President Condi?
I know there's been a buzz about this for a while, but I never paid much attention to it... until recently. I know it sounds ridiculous to say that a single photograph has put me over the edge, but I'm not so naive as to believe that image and packaging aren't crucially important in presidential politics these days. Well, check out this image and this package. (Everyone else is posting it, so why not?)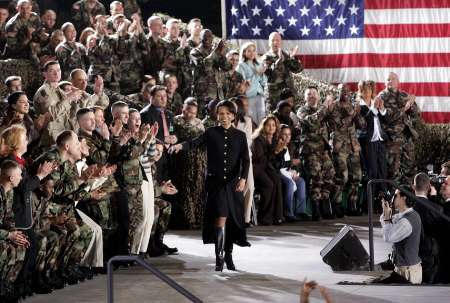 It's not all packaging, of course. She's tough, smart, and strikes just the right balance on social issues: pro-gun and pro-choice. She should be capable of gaining broad support among religious conservatives without terrifying social moderates and libertarians.
A Rice candidacy could substantially cut into the Democrats' share of some of their core constituencies. Given current demographics, Democrats require a strong showing from females voters and the black vote in its entirety to be competitive. Any significant erosion in either category spells trouble. Consequently, it could make a Hillary Clinton candidacy a much more likely possibility.
The Clinton-vs.-Rice scenario (which is starting to look less contrived than it once did) would be a great deal more than a wet dream for political bloggers. It would guarantee this country its first woman president, and those (hopefully mythical) Americans who would refuse to vote for a woman on general principle would be removed from the equation. And can you imagine the reaction of fanatical Muslims everywhere? "These Americans are crazy!"
Condi Rice has now officially joined the triumvirate of people whom I would like to see run for president in 2008: McCain, Guilliani and Rice. According to this straw poll, I'm not the only Republican thinking along these lines. I know it's still ridiculously early to be discussing such things, but I can't help but be optimistic.