Blowing the lid off a scandal
I hate Radio Shack. In fact, I was going to title this post "I hate Radio Shack," but then I realized I was onto something much larger here. So before I blow the lid off this huge scandal, I'll provide the background. (If you're impatient, please feel free to skip the next few paragraphs about Radio Shack.)
But anyway, what started it was buying a cassette recorder for my wife. In the town where I work, Radio Shack is sort of the only game in town for buying such things, and I was really too lazy to go into the city and too impatient to use mail order. I already disliked Radio Shack because of their inferior products and their pushy sales people, but convenience won out. I bought a recorder there.
It sucked. It worked for a day or so and then quit. I took it back and got a replacement. That one sucked too. I finally gave up on that model and went for the more expensive one. Mind you, my vintage Radio Shack cassette recorder from 1972, with its enormous white plastic buttons the size of piano keys, would have worked just fine for what she wanted, but they don't sell anything so simple anymore. Everything has a jillion different hi-tech features like voice activation and speed garbling that



I don't give a shit about, and

don't work

But again, I didn't have many options, so I took the more expensive model. Unfortunately, it was a couple of weeks before my wife got around to trying it out, and guess what? This one didn't work at all.
So screw it, I'm going to Best Buy at this point, but I did decide to try to get my money back from Radio Shack.
But then, guess what? I finally dug the receipt out of my wallet... and it's illegible. Practically all the ink had worn off. I could tell from the back of the receipt that it was from Radio Shack, but beyond that I couldn't tell a damn thing. Check it out.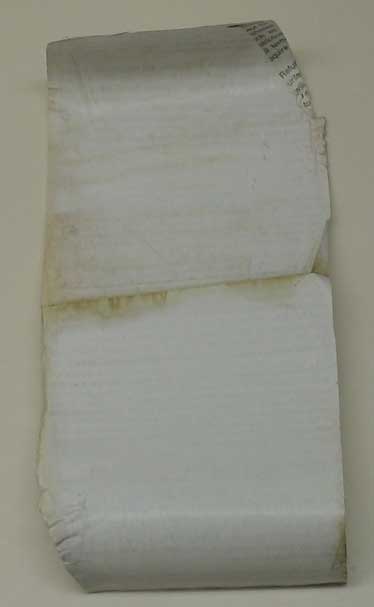 I hadn't had the receipt in my wallet
that
long. I've kept other things -- ticket stubs, coupons, magazine clippings -- much longer, and they're still legible. So why did this receipt just go
poof
and disappear?
It wasn't just that one, either! Check out this receipt I pulled out of my wallet from Barnes & Noble: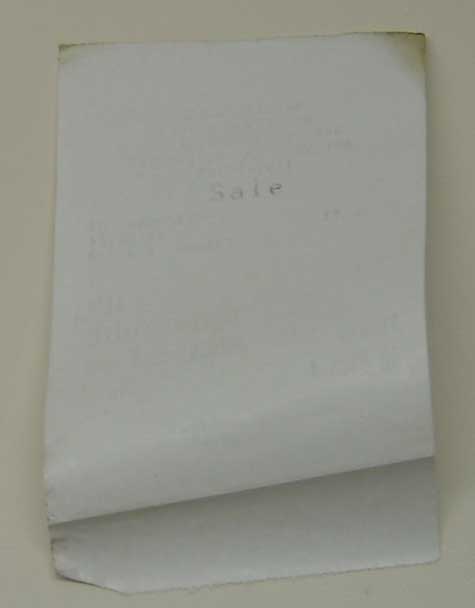 Even though it's hard to make out from this photo, I was finally able to discern the name of the store on this one, although it's impossible to decipher what I actually bought.
And this one's my all-time favorite. I can tell it used to be a receipt at some point, but now it looks for all intent and purposes like a blank piece of paper: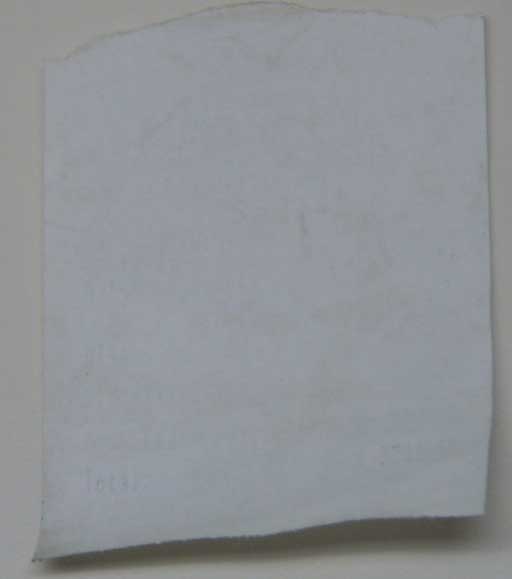 Wake up, people! Stores are giving us receipts written in disappearing ink! Don't stand for it anymore! And until we do get things changed, perhaps you'd better save those receipts in hermetically sealed little envelopes, like the kind they have for philatelists.