Banach-Tarski: Paradoxes of the infinite
A few days ago I began a series of posts regarding the Banach-Tarski paradox. The implications of this paradox, that it's possible to decompose a sphere into a finite number of pieces and reassemble them to form two solid spheres equal in size to the original, has never set well with me.
One of the keys to understanding Banach-Tarski is understanding that a mathematical sphere is infinitely divisible, and can be divided into infinitely complex subsets. In part, Banach-Tarski is a paradox of the infinite.
Paradoxes and bizarre, counter-intuitive results go hand-in-hand with the study of transfinite sets. My goal now is to start getting us accustomed to such paradoxes, and to proceed from there to an understanding of Banach-Tarski.
I'm going to skip Zeno's paradoxes, because frankly, they're kind of stupid. Everyone knows you can catch the damn turtle. Anyway, Zeno is taught in freshman calculus as a way to demonstrate that a sum of infinitely many infinitesimally small quantities can be finite. Let's just forget Zeno and move on to a more interesting example.
One of the main things they teach you in second semester calculus is how to calculate the volumes and surface areas of some highly improbably shapes.
Let's consider a simple function: the reciprocal function, 1/x.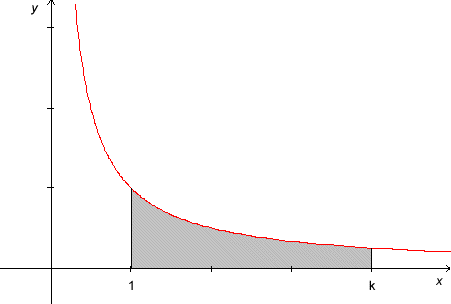 Cool chart, huh? Now what if we formed a surface by rotating this line around the x-axis. It would sweep out a cool cone shape.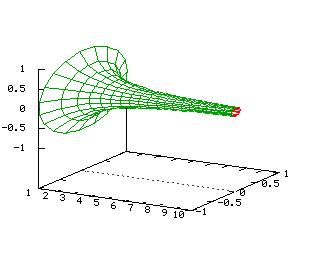 It's a fairly straightforward exercise in integral calculus to determine the volume and surface area of this cone for a value of
x
equal to
k
:

A = 2&pi ln k
V = π (1 - 1/k)
Now consider what happens as we let k approach infinity. The surface area of this cone approaches infinity, as we'd expect. The cone's volume, however, approaches π.
So what does that mean? We have a cone with an infinite surface but a finite volume. Does that mean that we can fill it up with paint, but we can't paint it? Or does that mean that we can paint an infinite surface with a finite volume of paint simply by pouring it into the cone?
Yes, there are easily a dozen reasons why this wouldn't work: Paint is made of discrete molecules, and beyond a certain point, paint molecules would be too large to go any further down the cone. Coats of paint are not infinitely thin, but have a finite thickness, so the paint would be used up before it got to the nether regions of the cone.
That's all true, of course, but... isn't there still something unsettling about this result, even after you've made excuses for the real world?
Anyway, weird, huh? There's more to come. We'll explore a few more such oddities before tacking Banach-Tarski directly.