Feingold censure update
You've got to check out Dana Milbank's piece on how Feingold's Democratic colleagues are reacting to his call for censure.


Democratic senators, filing in for their weekly caucus lunch yesterday, looked as if they'd seen a ghost.

"I haven't read it," demurred Barack Obama (Ill.).

"I just don't have enough information," protested Ben Nelson (Neb.). "I really can't right now," John Kerry (Mass.) said as he hurried past a knot of reporters -- an excuse that fell apart when Kerry was forced into an awkward wait as Capitol Police stopped an aide at the magnetometer.

Hillary Rodham Clinton (N.Y.) brushed past the press pack, shaking her head and waving her hand over her shoulder. When an errant food cart blocked her entrance to the meeting room, she tried to hide from reporters behind the 4-foot-11 Barbara Mikulski (Md.).

"Ask her after lunch," offered Clinton's spokesman, Philippe Reines. But Clinton, with most of her colleagues, fled the lunch out a back door as if escaping a fire.

Heh, you've got to admit, it's kind of fun to watch 'em sweat like this. And wouldn't you love to know what's being said in the accompanying photo of Feingold with Harry Reid and Dick Durbin?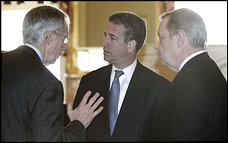 Many Senate Democrats are understandably upset at being placed on the hotseat by Feingold. Most of them are intelligent enough to understand the point that NR makes today.


The left-wing netroots are rallying to Feingold's proposal, and posting the phone numbers of Democratic senators, so Bush haters everywhere can call to urge them to vote for the Feingold's censure resolution. These bloggers and their readers are a key part of Feingold's constituency for a run for the 2008 presidential nomination from the left. Anything Feingold does to please them helps himself, even if it is irrational and harmful to his party's interests. It often will be, since the netroots can't distinguish between political strategy and pointless, self-gratifying stunts. This is why they pushed Democrats to compound the disaster of the Alito hearings with a doomed filibuster of the nomination, championed -- not coincidentally -- by another '08 hopeful, John Kerry.

This is going to be fun. Please pass the popcorn. For the time being, however, I'm keeping the
boycott
in place.