More stellar reporting on Iraq
This time it's from USA Today, and comes to us courtesy of James Taranto.
The meat of the article indicates that desertion rates in the U.S. military have "plunged" since September 11, and indeed have decreased every year since 2001, as the graph below demonstrates.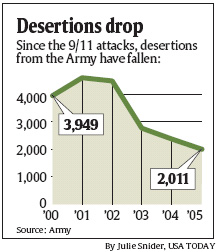 So what's the headline for the story?


8,000 desert during Iraq war

and the article begins
At least 8,000 members of the all-volunteer U.S. military have deserted since the Iraq war began, Pentagon records show, although...

Great journalism, huh?