How Kaavya Viswanathan got wild, stole a book, and got a career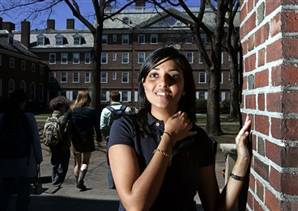 Stuff like this can be frustrating for aspiring writers (a group that includes many, if not most, active bloggers.)
How Opal Mehta Got Kissed, Got Wild, and Got A Life is the first novel of Kaavya Viswanathan, a Harvard sophomore.
The book was well received, and even made it into the New York Times bestseller list. Now, however, some disturbing similarities to a 2001 novel called Sloppy Firsts, by Megan McCafferty (isn't that a great title, by the way?) have been unearthed by the Harvard Crimson.
It's interesting that the MSNBC article about Ms. Viswanathan runs two whole pages without once mentioning the word "plagiarism," or any form thereof. One wonders why, since many of the "similarities" with McCafferty's book are, well, pretty damned similar. Here are some examples.


On page 213 of McCafferty's book: "He was invading my personal space, as I had learned in Psych. class, and I instinctively sunk back into the seat. That just made him move in closer. I was practically one with the leather at this point, and unless I hopped into the backseat, there was nowhere else for me to go."

On page 175 of Viswanathan's book: "He was definitely invading my personal space, as I had learned in Human Evolution class last summer, and I instinctively backed up till my legs hit the chair I had been sitting in. That just made him move in closer, until the grommets in the leather embossed the backs of my knees, and he finally tilted the book toward me."

Here's another:

McCafferty's novel, page 23: "Though I used to see him sometimes at Hope's house, Marcus and I had never, ever acknowledged each other's existence before. So I froze, not knowing whether I should (a) laugh (b) say something (c) ignore him and keep on walking."

Viswanathan's novel, page 49: "Though I had been to school with him for the last three years, Sean Whalen and I had never acknowledged each other's existence before. I froze, unsure of (a) what he was talking about and (b) what I was supposed to do about it."

There are more examples in the article. Dan Brown was sued for much less.
My first reaction to reading this was to wonder what the hell Viswanathan was thinking. How do these people think they can get away with this kind of thing in today's world? But upon further reflection, I realized she did get away with it. She's got a bestselling book and a multi-book contract. She's already sold the movie rights to this novel, and now she's getting tons more publicity. There's a moral in here somewhere, but I'm damned if I know what it is.