More on the inheritance tax
Following up on yesterday's rant about the inheritance tax, I'd like to share some numbers on the estate tax rates here at home as compared with other rich countries (I've decided to bag that "industrialized" euphemism.) Check it out.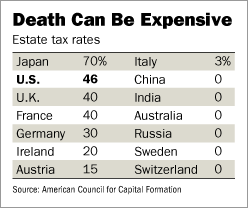 Interesting, right? Much as we like to think of ourselves as lagging the rest of the world in our impulses, that's not always the case. It's also important to note that the current 46% is the effective tax rate right now. If nothing is done, however, the previous confiscatory rate of 60% will return in 2010, and affect all estates in excess of one million dollars. No wonder 67% of Americans favor scrapping this tax altogether.