Random thoughts on Superman
So I saw Superman Returns this weekend. It sucked.
After 35 years, I've finally come to the conclusion that the character of Superman in fundamentally boring. He has none of the brooding vengeance of Bruce Wayne or the teenage angst of Peter Parker. He's a non-interesting galactic boy scout and a compulsive do-gooder, whom I could not bring myself to care about at the end of the film when he was lying in a hospital bed fighting for his life. Sorry, I'm a cold-hearted bastard, but I just can't relate to the guy. And Lois Lane is whiny and annoying.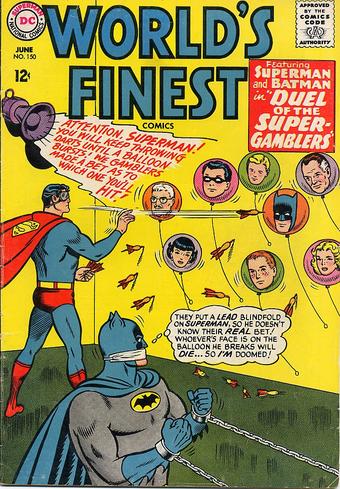 Here's something else that always pissed me off about Superman: World's Finest. It was a monthly Superman-Batman team-up that I read as a kid. Even back in those days I realized what a preposterously lopsided match this was.
One half of the duo could uproot mountains and hurl them into outer space. The other half was a billionaire with some cool toys and a bad-ass car. You can just imagine some of the absurdly contrived hoops the writers jumped through to set up unlikely premises in which Batman could pull his own weight instead of just being in the way.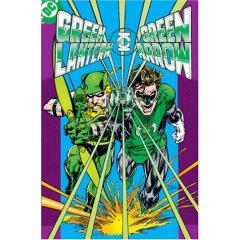 Here's another ridiculous team-up: Green Lantern and Green Arrow. They both wore green, but the former had almost god-like powers ("Hey, I think I'll create a world!") and the latter... was good at archery.
This is a problem that plagued much of the D.C. universe, as was abundantly apparent in the old Justice League of America series. On the same team you had Superman, Green Lantern, and Wonder Woman, and we were led to believe they were on a par with third-stringers such as... Hawkman.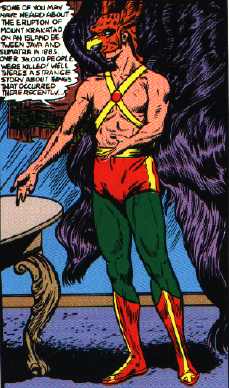 Hawkman's powers? He could fly. Big deal. Hell, everybody and their freakin' uncles could fly in that universe. You probably had trouble applying for a home mortgage if you couldn't fly. Oh, and he also owned a bunch of cool, medieval weapons. Woo-hoo.
Then there was Black Canary, whose super power seemed to be her ability to wear fishnet stockings, and Atom, who's "power" was that he was very tiny. You get the idea....