Racism in Tennessee?
I like Harold Ford. He's one of my favorite Democrats in Washington, and I'd very likely vote for him if I lived in Tennessee. Moreover, I think this attack ad targeting Ford is silly, embarrassing, and downright misleading in parts. But is it racist?
Josh Marshall thinks so, and so do Chris Matthews and Oliver Willis, in their typically shrill, nonsensical fashion. Here's how Willis viewed the ad:


The Republican party is running in Tennessee on a platform of the big black buck coming for the white women.

Right. Phrased with all the characteristic grace and aplomb we've come to expect from Mr. Willis. It's still bullshit, of course.
Look, I'm going to be a bit politically incorrect for a moment, so please bear with me here. This is Harold Ford: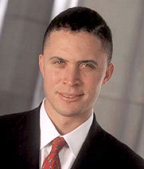 He doesn't exactly evoke "Mandingo," now, does he? In fact, until I started reading about the current campaign, I didn't even know Ford was black. He's paler than my Scotch-Irish self.
Most of the allegations of racism seem to center on the (white) Playmate in the video who says she met Ford during a party at the Playboy mansion. For my part, it doesn't bother me at all if Ford wants to party with Hef and the gals, but in conservative Tennessee, this kind of behavior among elected officials can still raise some eyebrows. This effect is magnified by the fact that Ford has made a big issue of his Christian faith and his "love for Jesus" during this campaign. It's very hard to imagine Democrats not slamming Ford for the same reason were the party roles reversed. The whole Playboy thing is a non-issue, as far as I'm concerned, but it's certainly not racism. The ad's Playboy angle would make just as much sense (or nonsense) if Ford were white.
Here's a video clip that purports to illustrate the "hidden" racist message in the ad. Again, it focuses largely on the "Mandingo" theme, but the video's author is completely inconsistent. We're asked to believe the inclusion of the first woman is racist because the woman is black. Then we're told the inclusion of the last woman is racist because the woman is white. Not terribly convincing, is it? Then, for good measure, the video's author is offended because the hunter in the middle of the ad seems to be wearing "blackface." That's proof certain that this preposterous video was put together by someone outside of Tennessee, because he/she obviously doesn't know a damn thing about hunting.
This is just stupid, people. Racism still exists, all around us, and that's a problem, and one we shouldn't trivialize by looking for racism where it simply doesn't exist. I like Ford, and I hope he wins. But dealing the race card in this instance is not only unseemly, but very likely counterproductive as well.