Two great dead people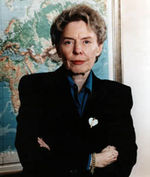 When I was an undergraduate in college I used to carry around a photo of Jeane Kirkpatrick in my wallet. No, I am not joking. And yes, I am a dweeb. I was never a big wallet photo person, but for a period of time in the mid-80s I carried around pictures of exactly four people: Ronald Reagan, Barry Goldwater, William F. Buckley Jr. and Jeane Kirkpatrick.
So how did JK make the cut? I think it was her unapologetic defense of American interests, combined with her unapologetic opposition to tyranny. Back during the 1980s, when the term still actually carried some meaning, Ms. Kirkpatrick was often referred to as a neoconservative. The rationale for doing so was that she was an unabashed fan of Humphreyism and the New Deal, but nonetheless believed we had to aggressively confront the Soviet menace.
It's fascinating that none of the obits I've read of the former ambassador have included the term "neocon," but it's probably because the popular media has perverted the definition to describe anyone who supported the war in Iraq. John Bolton was one of the few people in recent history who understood that the American ambassador to the United Nation's job is to represent the American policy at the U.N. rather than vice versa. It sucks that we have to say goodbye to two of them in the same week.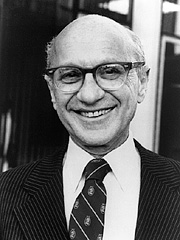 While on the topic of great dead people, I should also say a word or two about Milton Friedman, whose death came too close to my Thanksgiving vacation for me to draft a proper obit. I'm not entirely sure why Friedman didn't make the cut for a wallet photo, but he was hands down my favorite economist. Yes, I know it's terribly geeky to even have a favorite economist, but Milton was special. I read his "Capitalism and Freedom" when I was a college freshman. That one book did more to shape my political views than any other single influence. It was only later that I learned that our current president, one Ronald Wilson Reagan, was also a fan of Friedman's. That was the beginning of it all for me.
And the coolest thing about Uncle Miltie? He was still writing Op-Eds for the Wall Street Journal right up until the day he died. I'll leave you now with a link to a terrific video from the Milton Friedman Choir.