Rudy's biggest flaw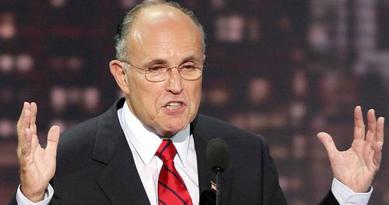 I've been very supportive of Rudy Giuliani's candidacy ever since people first began talking about it. But nobody's perfect, of course, and this, in my opinion, is Rudy's biggest flaw.


Rudy Giuliani addressed a potentially troublesome issue with conservative voters, saying his policies as mayor to get handguns off the street helped reduce crime in New York.

"I used gun control as mayor," he said at a news conference Saturday during a swing through California. But "I understand the Second Amendment. I understand the right to bear arms."

No, Mr. Mayor, you don't. If you did, you wouldn't have followed those comments with this:

He said what he did as mayor would have no effect on hunting.

God, deliver us from Northeasterners who seem to believe that pheasant hunting was so important to the founders that they enshrined it in the Constitution. I
hate
that!
Anyway, I still find Rudy to be an attractive package overall -- socially liberal, fiscally conservative, and hawkish on defense. A successful Giuliani candidacy would convincingly destroy the stranglehold the religious right currently holds on the GOP. Reasonable Democrats and Republicans alike should welcome that.
Also from what I've heard, Rudy played very well in California, precisely because he's not Bill Frist or Sam Brownback. Think about it -- a popular Republican candidate who could turn both New York and California into battlegrounds. Mind you, he doesn't even have to win either state, but if he forces the Democrats to spend time, energy and money in two huge, vote-rich states that they're accustomed to taking for granted, it would be disastrous for their chances of winning the White House.