John Edwards' pirate booty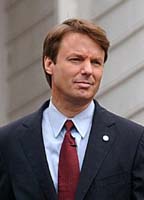 I was going to Photoshop an eye patch on the above photo for this story, but I was too lazy, so just try imagine that he's wearing an eye patch, okay? And going "Arrrrrhhhhh" and stuff. You know, like a pirate.
Anyway, I'm less concerned about this booty than the booty Edwards is going to have his eye on if he gets elected, straps on the ol' cutlass and comes after my paycheck.
Actually, this story isn't really important at all. I just couldn't resist commenting on a news item that had "John Edwards" and "booty" in the headline.