Michael Moore does it again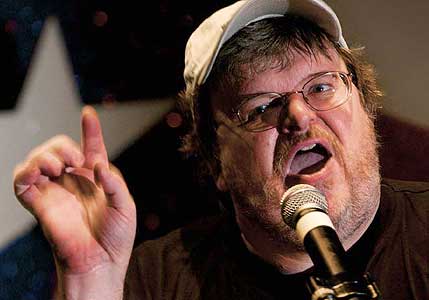 Yeah, "Sicko." I think I saw that one. That's the documentary where the guy eats at McDonald's all the time and turns into a fat, disgusting, unhealthy slob, right?
Okay, that was wrong, if not implausible. Turns out that was someone else, so scratch that last sentence. There, I've now proven this blog has a greater commitment to intellectual honesty than does Michael Moore. That was easy, wasn't it?
Mind you, I haven't seen Michael Moore's latest documentary yet, but all I had to do was read the following Reuters piece to see that Moore is up to his old tricks.
Moore was asked by journalists why he painted such a rosy picture of other countries' health systems, including Britain, France, Canada and Cuba, and the implied criticism is likely to be raised again. But he defended his methods.

"I recognize that there are flaws in your system but that's not for me to correct, that's for you to correct," he told a Canadian reporter.

No, Michael, you aren't obligated to "correct" foreign health care systems, but if you're going to hold them up as a basis for comparison to our own, then you should feel obligated to at least present them honestly. I submit that's what a fair-minded documentarian would do. Instead, you have done what you always do -- you've stacked the deck. Moreover, you've admitted to stacking it, and defended said stacking with the non sequitur that it's not your responsibility to "correct" the flaws in foreign health care, and therefore you won't even acknowledge they exist.
His fan base, of course, will ask no tough questions of him, and will simply adore his movie and cover him over with praise and awards. Good for Moore, I guess, but he's merely preaching to the converted. If that's all he's aiming to do, he's an unqualified success. But if he's actually attempting to win converts and sway opinions, he'll likely fail, as he's always done, because his own intellectual sloppiness and fundamental dishonesty provides too many obstacles to effective proselytizing, and provides his critics with too many cudgels to attack his message and too many reasons to dismiss him altogether.
I've already noticed a lot of advance buzz about how Moore has "matured" as a filmmaker. So far, I'm skeptical.