"Two Americas" update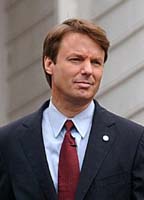 John Edwards, as we know, is a tireless crusader for justice. By all accounts he's pretty successful at it, too. After his years as a high-dollar trial lawyer, he amassed enough "justice" to build a 28,000 square foot home. Then, of course, he decided the most efficient path to pursue justice for the downtrodden was to go work for a Cayman Islands-based hedge fund. I'm not sure exactly how much justice he received from the fund while there, but I'll bet it was enough to pay for 2 or 3 haircuts, at least.
So why would Edwards, the Tom Joad of our time, go to work for a hedge fund as opposed to, say, Habitat for Humanity? It's not like he needed the bucks. Well this AP Story has the answer:


[Edwards] has said his work for a fund that generally caters to the wealthiest of investors was designed to educate him about the relationship between poverty and wealth and should not overshadow his work for the poor.

Okay, truth or dare time here. Can anybody read that with a straight face and not feel embarrassed for the guy? Is there anyone in the Edwards campaign or anywhere else who didn't groan when reading that explanation? At least when Pete Townshend came up with the howler that he was just downloading child porn for "research" purposes, he was trying to keep his ass out of jail, and was desperate enough to say anything.
If it sounds like I'm unfairly ragging on my former senator, it's because I am. There's nothing wrong with working for a hedge fund or having a big house or getting expensive haircuts, but there is something incongruous about the man's lifestyle and the image he'd like to project. Edwards is vulnerable on this issue in the same way that religious conservatives are uniquely vulnerable to charges of sexual impropriety.
Republicans, for whatever reason, don't seem to get many $400 haircuts. But if they did, there'd be nothing particularly interesting or ironic about it, because Republicans aren't always nattering on and on ad nauseum about social justice this and two Americas that. They'd be like, "Screw you, I'm dropping four Franklins on a buzzcut," and that would be it.
And here's what really gripes me. Edwards is so ardently committed to fighting poverty that he's willing to raise our taxes to do it. Not "asking," for sacrifice, mind you, but demanding it. That means that in his view the social inequalities are so vast that he feels justified to confiscate, under pain of imprisonment, the private wealth of individual citizens who are worth a lot less than he is to finance his redistributionist goals.
That's fine and all, but if you really believe that's the situation we're in, then by what moral calculus can you possibly justify a $400 haircut? If social inequality is so bad that you're willing to take food from our tables to make it better, then don't you think it would be appropriate to at least consider whether you could dispose of that money in a better way? I'll bet that for a single c-note you could still get a bang-up trim (I spend sixteen) and you'd still have $300 left over to donate to the charity of your choice, help out a local family, contribute to your own campaign, or, hell, even give to a bum on the street. Can't you find some better use for that money? When you were allocating untold millions to construct a house that takes up the better part of an acre, did it even once occur to you that by scaling back to, say, 10,000 square feet, you could still have a frakkin' ginormous mansion, and simultaneously help deserving people who perhaps have no home at all? And lessen your carbon footprint to boot? Seems like a win/win to me.
Sorry I woke up in a "rag on John Edwards" mood, but he's fresh on my mind since I got a letter from his campaign yesterday asking me for my generous contribution to help end poverty. (God only knows how I get on these mailing lists.) And again, I don't have a problem with people building big houses or living lavish lifestyles. But if you're going to paint yourself as a tireless crusader for the downtrodden, flying around like a rock star lecturing people about how bad everything is, but you're still living in a house the size of Rhode Island and spending more on hair care than I spent on my first car, well... you're as big a lousy hypocrite as Al Gore on the environment. Lousy hypocrites, of course, are a dime or dozen, and I generally just ignore them. What's so pernicious about the Gore/Edwards variety, however, is their willingness, even eagerness, to compel us to live a lifestyle that they themselves decline to follow. People like that piss me off.