I for one welcome our new nanny overlords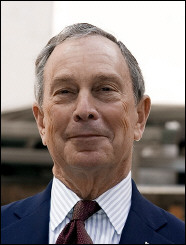 What do you suppose a Bloomberg presidency would be like? Maybe his first act would be to appoint Sheryl Crow as Secretary of Telling Americans How Many Squares of Toilet Paper They Can Use. Then he'd conduct elaborate sting operations against stores accused of selling more than one roll per month to a customer.
I know a lot of people like the guy, and I guess I understand that. But what I don't understand is how many of them are liberals who thought Giuliani was too authoritarian. Hello? At least Giuliani had remarkable accomplishments to offset his occasional excesses. What has Bloomberg ever done besides not making the city fall apart while he's busy telling us how to cook our french fries? Ah well, maybe it's just me. He did give me a free radio once, so I guess he's not all bad.
Anyway, I think Soobee is right. The guy's clearly gearing up for a third-party presidential run. As terrible as I think a Bloomberg administration would be, I do kind of like the idea of a Bloomberg campaign. For one thing, it would probably be easier to get laid at a science fiction convention than to actually elect the guy, so I think I can safely relax. But it would make the campaign more interesting, wouldn't it? And anything that shakes up the two-party duopoly in our system has to be a good thing, doesn't it?
And speaking of that, I wonder what the odds are that Ron Paul will run on the Libertarian ticket this year? He wouldn't make as big a splash as a Bloomberg candidacy, but he'd almost certainly garner a lot more than the half percent he got when ran on the LP ticket back in '88, given the recent boomlet he experienced in the first rounds of the GOP debates.
UPDATE: And now Ralphie?