Jimmy Carter is a pathetic old fool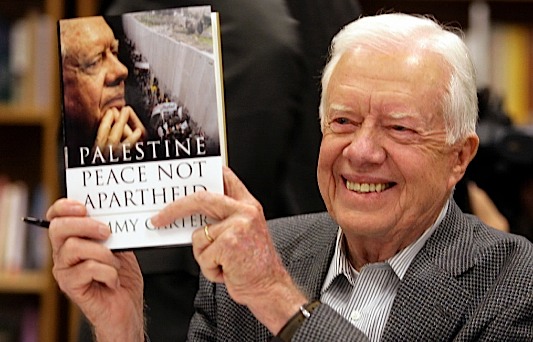 You've almost got to feel sorry for him. He worked long and hard to rehabilitate his image in the years after his failed presidency. It took some time, but it eventually paid off. Through his humanitarian work with Habitat for Humanity, his efforts in promoting free and fair elections around the globe, and countless books, speeches and op-ed pieces, he finally earned his place as an "elder statesman," and commanded a respect that nothing in his political record ever would have ever merited.
Sure, he's angered conservatives with many of his stances in recent years, but he's also endeared himself to the left in the process, so it was probably a wash. I found him to be a tiresome but largely harmless left-wing moral scold, and although I found some of his views on the Middle East troublesome, it didn't really start coming apart for me until this book hit the scene. I couldn't believe that the man who brokered the only lasting, significant peace of our lifetime in the region would throw away all his credibility and goodwill over that hateful, idiotic and self-indulgent little tome.
I wasn't the only one who had that reaction. Carter alienated himself from much of the Jewish community, and many erstwhile allies felt the need to dissociate themselves from the ex-president. Allegations of anti-Semitism began to circulate in some corners. You'd think it would have been a wake-up call. You'd think he'd take a step or two back from the precipice.
I guess not. Carter is now taking the U.S. and the E.U. to task for the sin of favoring Fatah over Hamas -- an Islamist terrorist organization committed to the destruction of Israel, that violently seized political power in a coup of stunning brutality earlier this month.
I've never particularly liked the guy, but it's almost painful to watch an old man glibly trash his own reputation so utterly and so thoroughly, particularly after he'd labored so assiduously to rebuild it. Still, all doubt has been removed at this point. Jimmy Carter is nothing more than a doddering old fool. And if you think that's too harsh, then believe me, it's the most charitable assessment I can possibly give the guy. Seriously.