The Bloomberg boomlet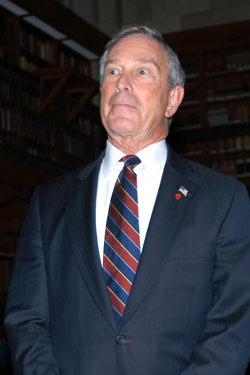 Okay people, joke's over. I mean seriously, what in the hell do you see in this guy?
At first I was willing to write the Bloomberg candidacy off to the overactive imagination of the news media, but now I find that his long defunct campaign site has suddenly been reactivated.
Okay, I'm convinced. He's running for president. The only question is why?
I continue to be astonished by the number of people I know, left, right and center, who react positively to the idea of a Bloomberg presidency.
To all you, some of whom are my dearest friends and closest family, I can only say... "WHAT THE F**K!??!"
Seriously, y'all, look. One of my favorite bloggers referred to him as a libertarian's "worst nightmare." My own lovely wife described him as an "anti-libertarian."
No doubt both are right. So I have to ask, where does the appeal come from? Look, I understand completely that everyone can't be a libertarian. I get that. We're nuts. Fine. But at the same time, isn't an "anti--libertarian" a bad thing? Can't we all at least agree on that? That the primary occupation of our elected official probably shouldn't be to make mundane, day-to-day life decisions for us? Hello? Anyone? Bueller? Hello? Am I truly alone here? Will anyone stand with me? What happened to the liberalism of old? Where's Lou Grant? Where's Clarence Darrow? Are we all meek sisters who stand quietly and deferentially by while President Bloomberg tells us what kind of baseball bat our kids have to use in Little League?
Seriously, what the f**k? One of my friends, whom I respect highly and disagree with so seldom that I have to question my own sanity, thinks that Bloomberg would be a great choice because he's a successful businessman, and that's what it takes to run large governments these days.
Well believe me, I'm very sympathetic to that argument. But I think if you look at Rudy Giuliani's record as NYC mayor, you'll find that he's at least as good a "businessman" on fiscal policy as Mike Bloomberg is. I know that both men have their own peculiar personality problems, but at the end of the day? I'd rather encounter government resistance in trying to obtain taxpayer funding for a blasphemous work of art, or in sqeegeeing a commuter's car, than in cooking french fries or trying to decide what kind of light bulbs to put in my overhead fixtures.
Seriously, you guys. (And I mean this with all due respect.) What the hell are you thinking?