Warren Buffett's silly economics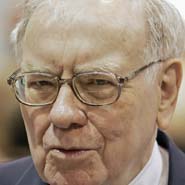 Warren Buffett is upset because he paid 17.7% in taxes last year, while his secretary who earns $60,000 paid 30%. He thinks that's terribly unfair.
I agree with him. If that's true, his secretary clearly needs a tax cut. I know that's not the conclusion I'm supposed to draw. I know that if I were really enlightened and compassionate I would understand that the obvious way to help the hapless secretary is not to reduce her tax burden, but to double or triple Buffett's. I don't really get it, but I'm sure it all made sense to his audience. Iit was a Hillary Clinton fundraiser after all.
But I'm officially calling B.S. on Buffett's numbers. If he says he paid 17% in taxes, I'll take him at his word. If most of his income came from long term capital gains, that sounds about right. But how does his poor secretary end up in a 30% bracket?
Assuming the worst case scenario for the secretary (no itemized deductions and filing single) I used the rates table to determine she would have had a total tax burden of around $10,300. That represents an effective tax rate of (are you ready?) 17%. And again, that's the worst case scenario. Chances are it was significantly lower.
It would be easy to dismiss this as yet more nonsense from a guilty rich liberal, but I think it's a bit more pernicious than that. This kind of misleading silliness fuels a common misperception that the existing tax code is somehow woefully regressive. The facts are that the top 1% of income earners shoulder more than a third of the entire tax burden, while the top 10% shoulder nearly two thirds. There's enough misinformation and class warfare out there already without people like Warren Buffett contributing to it.