Requiem for a McCain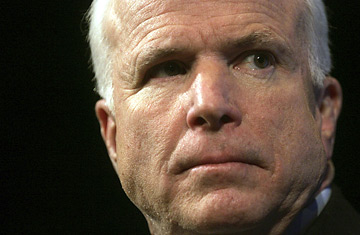 Believe it or not, I was a pretty hard-core McCainiac back in 2000. To this day John McCain remains the only politician I have ever donated money to in my life, a distinction he seems likely to maintain for the forseeable future. To the extent that the Republican Party "stole" an election in 2000, they did not steal it from Al Gore, but rather from John McCain. I was so angered by his treatment at the hands of the GOP machinery that I wrote in McCain's name in the 2000 ballot.
This time the GOP establishment was prepared to give him his turn, but McCain is well past his "best used by" date, and, barring a miracle, his time in history appears to have come and gone. I think that's damned sad, although others will no doubt disagree. I know it's stylish for the very same liberals who were gaga over McCain in 2000 to openly despise him today. But if they were honest about it, they'd have to admit that they've changed in the past 8 years more than McCain has. Their odd infatuation with the guy never made any sense, and there was no way the honeymoon could have lasted. That's one reason the magic of the 2000 campaign has proved so hard to recapture. The stars simply aren't aligned that way anymore.
A lot of liberals (and some conservatives as well) are going to derive much satisfaction from watching the McCain campaign melt down so spectacularly before our eyes. That's too bad, because even the most anti-McCain lefty out there would have to admit that we'd all have been much better off had the Republicans nominated him seven years ago. I don't see anything to be gleeful about. Watching McCain's faltering campaign stands as a reminder of what might have been. It stands also as a damning indictment against our broken two-party system that stacked the deck to guarantee that the most popular politician in America never appeared on a national ballot. Given what we've seen the past seven years, I'd say that's pretty near a tragedy of history. For all these reasons, I'll be sad to see McCain go. The current Republican field will be poorer without him. I think we all will.