Supply side snake oil
Like many others here, I often find myself reading this or that bit of nonsense from some supply-sider and thinking, "Christ, what an utter load of bullsheetrock." The problem, as I see it, is that suppy side economics has become a religion for too many people, and tax cuts have become the holy grail, a panacea for all that ails us, and even a tool for revenue enhancement!
Yes, most of this is bullsheetrock, and there are a number of right-leaning think tanks that would no doubt have excommunicated me for heresy by this point. Still, I maintain that the problem is not with supply side economics itself, so much as overzealousness on the part of its adherents.
Below is the famous Laffer Curve.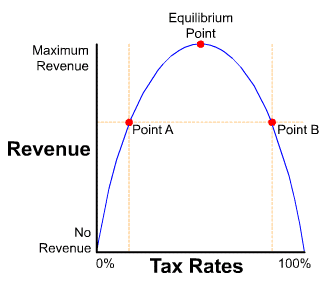 I submit that the Laffer Curve is completely uncontroversial, so long as one isn't too concerned with its exact shape. I think we can agree, for example, on the endpoints. If the tax rate is 0%, we get zero revenue. If the tax rate is 100%, we also get zero revenue, or near to it, because no one will work. In the middle somewhere is a maximum, labeled "Equilibrium Point" in the diagram. Perhaps it's skewed more to the right than the figure above shows, but it's in there somewhere.
I think we should all be able to agree on that much. Now, what supply siders say is this: There is no reason for any government to have tax rates to the right of the equilibrium point, ever. On this point, they are correct. Tax cuts for such a system would not only return more money to private taxpayers, but would also swell government coffers, as the tax rate moves back toward the optimum, increasing government revenue. In this instance, tax cuts really can "pay for themselves."
Now applying this logic to the U.S. income tax code might have made sense back in the 70's, when Art Laffer first sketched in on a cocktail napkin, but it makes no sense given the income tax rates of today.
It drives me crazy to see right-wing religionists misusing supply side theory to claim that tax cuts always pay for themselves. They don't! And the Laffer Curve doesn't claim that. In fact, if you look at the graph, tax rate cuts anywhere to the left of the equilibrium point actually reduce government revenue.
Given today's income tax rate structure, I just don't believe that future tax cuts would increase revenue. What I will grant the Church of Arthur Laffer is this: future tax rate cuts will be less costly than CBO's "static scoring" might indicate. Such tax cuts do have a stimulative effect and might help augment the tax base, and therefore make such a tax cut less costly than the CBO might assume, but that's a far cry from "paying for itself."
Now don't get me wrong. I'd support almost any tax cut for pretty much any reason. But not because I think it's going to increase government revenue. I agree with Milton Friedman -- if cutting tax rates increases revenue, that means you haven't cut taxes enough.