Don't screw this one up, please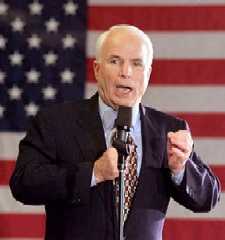 Now that we're finally back down to reality after the week-long, 24/7 Obama media swoon, the real story is once again the Republican race. I'm cautiously optimistic about McCain's fairly easy win last night, but I'm still not getting my hopes up. He won New Hampshire big in 2000, after all, and we know how that turned out.
But one difference this time is that there's no one else there to go to. Huckabee may pick up another few states while Romney and Giuliani atrophy and fall off the vine, but that's okay. I'm reasonably convinced that in a two-man race between McCain and Huckabee, Republicans will ultimately rally and do the only sane thing.
One potential fly in the ointment is the listless Fred Thompson. Many disaffected conservatives just can't seem to let the idea go, even though (ass Soobee pointed out in the comments) even Fred himself seems to have abandoned any pretense to be taken seriously.
And there's still a lot of virulent animus towards McCain on the right. Rush Limbaugh, for example, is braying that McCain isn't a "true conservative." One can, of course, make that argument, but if your definition is strict enough to disqualify McCain, then it certainly also must disqualify our current president, for whom Limbaugh has slavishly carried water for the better part of a decade now. What are McCain's most egregious apostasies? Immigration? Bush shares it. CFR? Bush signed it. And while Bush was hell-bent on destroying any last vestiges of the GOP's reputation for spending restraint, John McCain was a lonely but consistent voice for a return to the core value of fiscal conservatism.
So in short, Rush Limbaugh is an idiot. We tried it his way in 2000, and it didn't work out so great. Republicans now have a rare opportunity at a second chance here, and I really hope they don't blow it because of their obsession with ideological purity regarding John McCain.
I know I'll never convince all the McCain-haters in the GOP to actually like the guy. But I am hoping they can at least wake up and smell the coffee long enough to realize that he is the party's only realistic hope of maintaining the White House.
And if they don't? If they choke on pulling the lever for the "RINO" McCain and cast their lot with Fred Thompson or Mike Huckabee? I hope they enjoy their eight years of one-party, Democratic rule. I hope they enjoy paying all those new taxes. They should pay them in silence, with no bitching about it, because I, for one, am not going to want to hear their whiny, ditto-head asses.