Bush III, LOL
First let me be clear about something. I have every intention of voting for John McCain in November, barring some earth-shaking change in the interim. I've always liked McCain, and I think his nomination by the GOP was a positive development for the party that should be rewarded.
But that being said, I'm really becoming much fonder of Obama than I was back during the primary season. Maybe I'm just a sucker, but I think he's earned it. I mean, we all knew he'd run back to the center once he clinched the nomination, but his definition of "center" seems to be far more encouraging than I would have ever thought.
I always expected some Sister Souljah moment in which he'd toss said Sister under the proverbial bus. I didn't expect that he'd populate and entire city block full of Sister Souljahs, climb behind the wheel of the bus himself, and then proceed to mow them all down like tenpins, systematically backing the bus up to make sure he'd been thorough enough.
And yet that's what we have. Just during the past couple of weeks we've seen him triangulate on NAFTA, FISA, public campaign financing, the Second Amendment, the death penalty, MoveOn.org, faith-based programs, and I'm sure I'm forgetting stuff. It's no wonder that the Wall Street Journal suggests that it's he, rather than McCain, who's running for "Bush's Third Term."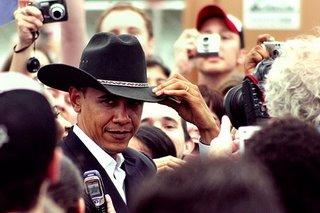 Needless to say, this all makes me very happy. It's not that I really want a third Bush term (God forbid) but I do welcome the flurry of unmistakable signals that Obama will not be beholden to the nutroots left. I actually disagree with Obama on several of these reversals, but nonetheless view them as welcome developments to the extent they shatter the image of Obama as rigid ideologue.
Don't get me wrong. I don't doubt for a minute that's he's far more liberal than I am by instinct and by nature, but he's also proven to be politically savvy enough to understand why Bill Clinton has been the only Democratic president since FDR to be elected twice. When progressive ideology and cynical political calculus cross paths in an Obama administration, can there be any serious doubt as to which will win?
Obama knows that the left may whine and bitch when he disappoints him, but that they will continue to stand by him regardless, just as they stood by Bill Clinton when he was dismantling welfare, signing NAFTA, and cutting the capital gains tax. For this reason, he knows he has more to fear from the right and center than from the left. Hell, maybe only Nixon could go to China. And maybe an Obama presidency could work out okay after all.
The truth is, the big thing that really bothered me about an Obama presidency was his economic policy. If we take him at his word, he wants to increase (drastically in some cases) pretty much every federal tax that exists. But at this point, one has to wonder how committed he is to any of his campaign pledges. Perhaps those tax plans were only tossed in there to make his (equally unlikely) proposed spending programs sound somewhat less budgetarily farfetched. How long before he jettisons all of them? His economics team, after all, seems remarkably pragmatic and centrist.
I don't pretend to know the real answers here. But I did have a dream last night, in which my subconscious told me its own predictions. I dreamed I met Obama at some big public function or another. I grabbed him by the shoulder and pulled him aside and asked him which of his myriad tax hike proposals he actually planned on implementing. He was more forthcoming than I expected, and whispered to me that he would only raise the capital gains tax (including dividends), and only on those earning a very high income.
I asked him if he could at least consider cutting the corporate tax rate in return, as even Charles Rangel wants to do, but I woke up before I could get an answer.